Attorney-at-Law Jaya Devi Manickchand was sworn-in as the newest commissioner of the Guyana Elections Commission (Gecom) yesterday and government said her appointment is evidence of the administration's commitment to empowering women in decision-making.
Manickchand, who replaces former Commissioner Moen Mc Doom, who resigned last February, was nominated by the government.
She sworn-in at the Credentials Room of the Office of the President and the Government Information Agency (GINA) reported President Donald Ramotar as congratulating her and saying that she would add efficiency and a different view to the commission. He also said that he expected recommendations soon from the opposition to fill the vacancy created with the recent death of opposition-nominated commissioner Robert Williams.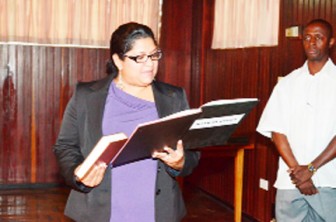 Gecom Chairman Dr Steve Surujbally, meanwhile, said he expects that Manickchand will work independently and not fall into the "political fray."
"We are welcoming her to our team. She has taken the oath and I hope she abides by that oath, and that her activities and statements will be above the political melee," he added.
Also addressing the gathering was Minister of Human Services Jennifer Webster, who stated that Manickchand deserves the position to which she was appointed and that it further demonstrates the administration's commitment towards empowering women in decision-making.
"I know that she is quite capable and competent and will exercise her duties in a very fair and just manner, whilst representing the People's Progressive Party/Civic. Ms. Manickchand as a lawyer has a well rounded background and will bring to bear a different perspective as a woman, dealing with electoral issues," Webster added.
Manickchand assured that she will work diligently with other members of the Commission to ensure the upkeep of work and in an effort to serve Guyana.
The new commissioner, who is married to Project Manager Omkar Lochand, completed her Bachelor of Law Degree at the University of Guyana in 2004 and later received a legal Education Certificate at Hugh Wooding Law School in 2006 in Trinidad and Tobago.
Manickchand is also a former president of the Leo Club of Bel Air, Georgetown and also works part time at the Children's Legal Aid.
She also volunteers her services at the Guyana Legal Aid Clinic and the National Aids Programme Secretariat. In addition, she also serves as the Chairman of the Rice Assessment Committee of Region Five.
Around the Web