Police Commissioner (ag) Leroy Brummell yesterday said that he has noted the call by Home Affairs Minister Clement Rohee for C 'Division' Commander David Ramnarine to be disciplined over recent public statements about the $90M in funds allocated to the police force for elections duties last years.
"Attention is being paid to it," is all Brummell would say, when contacted by telephone.
Rohee, in a statement earlier this week, noted his loss of confidence in Ramnarine, an Assistant Commissioner, and said that he had written Brummell, requesting "that action be taken at his level" in accordance with the Police (Discipline) Act Chap 17:01, in light of his concerns.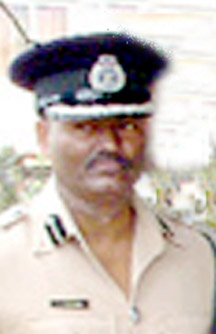 A source told this newspaper that Rohee erred by giving Brummell a directive on how to deal with Ramnarine.
The source noted that it is obvious that the monies given to the various divisions were grossly inadequate and that it was clear that ranks were being pushed "to beg." The source opined that although Ramnarine acted "foolishly," other officers should have come out in support.
It was further pointed out that the force, like every organisation, has procedures as it relates how information is released to the press and in the case of Ramnarine, a better system could have been set up for him to release the information.
Ramnarine told a section of the media during an interview that he did not receive any money for the elections.
Rohee subsequently released a return cheque signed by Ramnarine for the sum of $320, 000. Ramnarine later acknowledged the cheque but clarified that it was left out because it was a tiny sum when compared to the millions his division should have received. He also said that he received the cheque 11 days after it was issued.
In a letter, published in last Sunday Stabroek, Ramnarine responded to criticisms by Rohee, triggered by his public statements on the issue. Though Rohee's contention is that Ramnarine breached the force's Standing Orders, Ramnarine made it clear that he spoke out because of concern over the welfare of the ranks.
He also argued that the Standings Orders do not supersede his fundamental right to freedom of expression.
Around the Web