The results of a post-mortem examination yesterday proved that Canje businesswoman Bibi Shameena Khairoodin died of "shock and haemorrhage due to gunshot injuries, laceration to the brain and fractured skull."
Khairoodin, 45, of Canefield, East Canje sustained wounds to her head, back and hands.
Her semi-nude body was discovered in a pool of blood on her bedroom floor in the lower flat.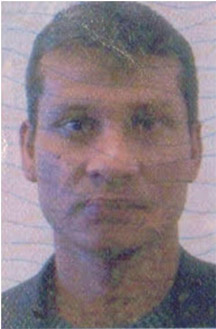 Police yesterday issued a wanted bulletin for her husband of 27 years, Ramdhanie 'Prak' Persaud who has been on the run.
It was initially believed that Khairoodin who operated a grocery was stabbed to death after a family member saw what was believed to be a knife in Persaud's hand.
There were also suspicions that a gun was used but a brother said the neighbours did not want to confirm if they had indeed heard a gunshot.
Neighbours summoned an ambulance which arrived at the scene within half an hour and took her to the hospital where she was pronounced dead on arrival.
Reports are that the couple had constant quarrels over money and over some of his 'friends', who were said to be "drug addicts", that the man was reportedly hanging out with.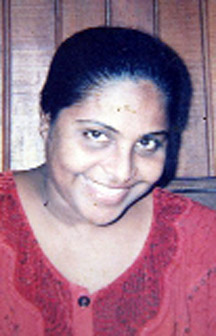 The woman's brother told Stabroek News that Persaud would go out and purchase about $40,000 worth of alcohol at one time on credit. They said he would order that she pay his debt.
According to him, he never contributed to her business but he would demand that she use her profit to pay bills and other expenses he incurred.
The brother said that whenever she complained about him wasting money he would become angry. He said when Persaud came two months ago he gave her $100,000 and she deposited it in the bank.
He also reportedly took her ATM card and withdrew $70,000 and went back later and took the rest. He said she knew about it after she found the receipts in his pocket and when she told him about it he responded that it was his money.
They said that the man, who only went back to New York last November, returned in January and was planning to develop a plot of land at New Forest to open a pig farm.
He also visited a few times per year.
In February, during a misunderstanding he beat her and threatened to kill her and she reported the matter to the police.
The man was charged and placed before the court.
Her brother said that her husband begged her not to proceed with the matter; "he tell she he love she and he sorry."
He also promised that he would "not do it again" and the matter was dropped.
The magistrate placed him on a bond to keep the peace for one year, warning him that he could be jailed if any other report was made against him.
At the end of the hearing he was pleased that he had gotten off lightly and took the woman and her relatives out to lunch in New Amsterdam.
The brother lamented that although Persaud migrated to the US since 1998 after his mother sponsored him he never applied for sponsorship for his wife; only for their two sons.
He took his sons for a vacation in the states last year but his wife never got to go. The brother said that although the relationship was rocky, his sister stayed with the man because of the children.
In tears, he said his sister did not deserve to die like that and he hoped that her attacker would come forward and face the consequences. "He get away from man but he can't get away from God…," the brother lamented.
He said the family is still finding it hard to cope with her death.
Around the Web