(WICB) GROS-ISLET, St. Lucia – Big-hitting Kieron Pollard produced an extraordinary second One-day International hundred, as West Indies piled up an impressive 294 for seven from their allocation of 50 overs in the fourth Digicel ODI today.
"The Beast", as he is known to his teammates, slammed 102 from a mere 70 balls, a feisty knock that fuelled a late Windies surge, which saw the hosts plunder 117 from the last 10 overs of the innings at the Beausejour Cricket Ground.
Batting at six, Pollard smashed five fours and eight typically massive sixes, the last came off Brett Lee and sailed high over mid-wicket onto the Piton Party Mound.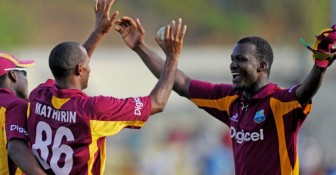 Pollard's innings headlined consistent West Indies batting with Adrian Barath stroking a shot-filled 41 and fellow opener Johnson Charles getting 37.
Exciting all-rounder Andre Russell banged 34 from 32 balls and captain Darren Sammy struck a 13-ball 31 not out, as West Indies ended the innings in high-octane fashion.
Australia struggled to contain the flow of runs with their captain Shane Watson, bowling his stiff medium-pace, grabbing two wickets for 55 runs from 10 overs, left-arm spinner Xavier Doherty taking two for 64 from 10 overs, and speedster Brett Lee two for 72 from 10 overs being the most successful bowlers.
Barath and Charles put on 56 for the first wicket to give the Windies an enterprising start, after they were sent in on a hard, true pitch.
Barath, in his first match of the series, hammered nine fours from just 31 balls and Charles was unusually subdued, striking three fours and a six off 62 balls.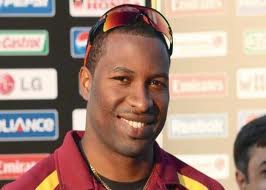 Clint McKay claimed Barath caught behind in the 11th over and Marlon Samuels spent 41 balls over 11 before he fell in similar fashion off Lee, leaving the Australians 83 for two in the 21st over.
Charles and Darren Bravo were just beginning to get into the thick of things, as the Windies lost two wickets to successive deliveries in the 26th over.
Charles was caught at long-on off Doherty and Dwayne Bravo was struck in front and adjudged lbw – after Australia challenged Indian umpire Shavir Tarapore's not-out verdict – off the very next ball.
The younger Bravo added 40 with Pollard for the fifth wicket before he was caught at long-off, trying to clear the fielder.
Pollard and Russell then combined in a 94-run, sixth-wicket stand that re-ignited the Windies innings.
Russell hit four fours off just 32 balls, but departed when he was caught at cover, slicing a delivery from Watson in the 47th over.
Pollard duly reached his milestone and when he too, was caught at deep cover, Sammy held no prisoners smashing two sixes and a four off the last three balls, as the over cost 23 runs.
West Indies made one change for the match with Barath coming in to replace out-of-favour, fellow opener Kieran Powell.
Australia made two changes, bringing Peter Forrest and Ben Hilfenhaus in to replace Nathan Lyon and Daniel Christian.
The five-match Digicel Series is level 1-1, after the first three matches were contested at the Arnos Vale Cricket Ground in St. Vincent.
West Indies lost the first Digicel ODI by 64 runs last Friday, rebounded to win the second Digicel ODI by five wickets two days later, before earning a tie in the third Digicel ODI three days ago.
SCOREBOARD
WEST INDIES (maximum 50 overs)
J. Charles c Lee b Doherty 37
A. Barath c wkpr Wade b McKay 41
M. Samuels c wkpr Wade b Lee 11
D.M. Bravo c D. Hussey b Watson 25
D.J. Bravo lbw b Doherty 0
K. Pollard c M. Hussey b Lee 102
A. Russell c Bailey b Watson 34
*D. Sammy not out 31
+C. Baugh not out 0
Extras (lb3, w10) 13
TOTAL (7 wkts) 294
S. Narine, K. Roach did not bat
Fall of wickets: 1-52 (Barath, 10.1 overs); 2-83 (Samuels, 20.6 ); 3-106 (Charles, 25.2); 4-106 (D.J. Bravo, 25.3); 5-146 (D.M. Bravo, 35.4); 6-240 (Russell, 46.2); 7-278 (Pollard, 49.3)
Bowling: Lee 10-0-72-2 (w2); Hilfenhaus 10-1-43-0 (w5); McKay 10-1-57-1 (w2); *Watson 10-0-55-2 (w1); Doherty 10-1-64-2
AUSTRALIA: *S. Watson, D. Warner, P. Forrest, M. Hussey, D. Hussey, G. Bailey, *M. Wade, B. Lee, C. McKay, X. Doherty, B. Hilfenhaus
Toss: Australia
Umpires: G. Brathwaite, S.Tarapore
TV umpire: K. Dharmasena
Match referee: A. Pycroft
Reserve umpire:  P. Nero