The Guyana Telephone and Telegraph Company (GT&T) could eventually lay off workers and increase rates in at least three years if it continues to be hindered by unfair competition, CEO Yog Mahadeo said yesterday.
The telecommunications provider has already put a brake on expanding to unserved areas because its competitor, unnamed by Mahadeo, is constructing a network by using GT&T's plans.
"The justification of us competing with a network that seems to be built upon technical plans that we have put on the table, we cannot justify," Mahadeo told a pre-brunch media briefing at Telephone House yesterday.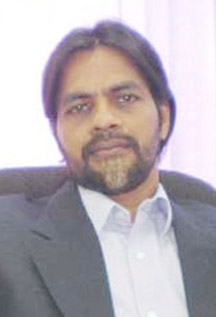 He pointed to GT&T's plans to build a 3G network and a Long Term Evolution (LTE) 4G wireless broadband system. "It is coincidental, then, that Government of Guyana is launching its own LTE network and another competitor is building its 3G network while we were locked and cast to a corner and told to wait," he said.
Another element of unfair competition cited by Mahadeo was the decision by Guyana Power and Light (GPL) to build its own fibre-optic network and insisting that it was safe and secure. To this, Mahadeo informed that the phone company's fibre-optic cable was very secure, in accordance with recognized standards and it was moving various types of international traffic.  He charged that government's attitude to the telecommunications industry appeared as if the State was getting into the business of a being a retail provider and cautioned that was not sending the right signal to investors.
Further, he said, "The uncertainty created by the development of these networks and the ambiguity surrounding their purpose, ostensibly for e-governance but looking more like retail government-run facilities, risk chilling investment by third parties is cause for concern."
When asked by Stabroek News if downsizing was an option to be looked at, the CEO shied away from the term and instead opted to say that the company could pursue "rightsizing."
That could include rate increases and staff cuts if the telecoms environment remains unchanged but GT&T builds a better network. "If the downward trend were to continue the way they are, then right-sizing would have to take place sooner rather than later," he explained.
GT&T has set itself a target of two to three years before deciding on "right-sizing," which Mahadeo added could be expansion instead of contraction. GT&T boasts lower rates to North America and several other destinations compared to Digicel, a company he accused of being less than honest about its financial performance.
Mahadeo challenged Digicel to produce its financial records and report them in the same manner as GT&T does to the Public Utilities Commission and Registrar. Though BlackBerry is globally facing stiffer competition, Mahadeo said his company still entered the market because "we are not afraid of challenges." At the same time, his company announced that it has entered the Apple market and its network was now compatible with Ipads and similar markets. Internet access via those instruments, he said, would cost the same as the BlackBerry service. GT&T still hopes to have an open and liberalized telecommunications industry and hopes that talks with government and lawmakers in the House would make the organisation's dream a reality.
Around the Web