(Trinidad Newsday) A 30-year-old Guyanese national charged with 17 counts of sexual offences was refused bail by an Arima magistrate.
Darel Ricardo Martin appeared before Senior Magistrate Luciana Cardenas-Ragoonanan in the Arima First Court charged with; three sexual intercourse, seven indecent assaults, six counts of grevious sexual assault and one serious indecency to an 11-year-old. The Guyanese national who resides at Wallerfield in Trinidad was arrested by Arima police and slapped with the 17 counts of sexual offences, by WPC Timothy of Arima CID.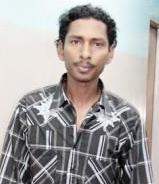 When Cardenas-Ragoonanan read the charges to Martin, he was very frantic, began to look nervous and began to scratch his hands. He was not called upon to plead as the matter was laid indictably.
However, the unemployed Guyanese man was refused bail and remanded in custody for tracing.
The little girl reported the constant abuse to her grandmother with whom she resides with at his Wallerfield home. The girl was taken by her grandmother to the Arima Police Station, where she made a report about the incident.
Police took the child to the Arima Health Facility, where she was medically examined and a report submitted to the police.
A warrant was issued for the arrest of Martin, who was held by police on Tuesday at Amazon Road, Wallerfield by Arima detectives led by Insp Seecharan and Cpl Lalla .
He was taken to Arima Police Station where he was cautioned by WPC Timothy who slapped the 17 sexual offences on the accused.
Around the Web