The Ministry of Health's medical outreach programme in collaboration with the private sector continued on Monday when it partnered with the Rotary Club to provide free dental care to the public in the parking lot near Fogarty's, on Water Street.
According to a Government Information Agency (GINA) report, this service is in keeping with recent initiatives in the health sector to expand the delivery of health care, particularly eye care, blood donation and VIA testing to diagnose and treat early symptoms of cervical cancer.
Sixty-five persons were treated on Monday, 75 on Tuesday, and over 100 persons were treated on Wednesday. The services included having teeth cleaned and fillings and extractions were also done, GINA said.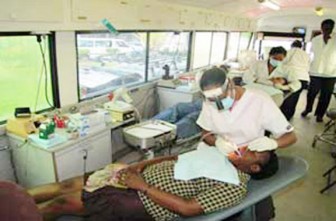 Minister of Health Dr Bheri Ramsaran, who was at the opening exercise, said the Laparkan Group of Companies has been supporting its activities and hosted its eye care, VIA services and blood donation exercises in January and February. Over 200 persons were screened for eye ailments and many of those who needed surgery have already undergone operations at the National Ophthalmology Hospital in Port Mourant, Region Six.
"What we are showing is that primary health care and preventative medicine can be brought to the public, while at the same time, we are using these activities to sensitise the public as to where these services exist in their communities," Dr Ramsaran said. According to the minister, over 1,500 persons benefited from dental care and eye services at Cane Grove, following which the mobile unit moved to Helena, Mahaica to offer the same services there.
In Georgetown, dental units are located in the FE Pollard Primary School, North Georgetown and North Ruimveldt secondary schools and at the Campbellville and East La Penitence health centres but persons can still access care at the Georgetown dental school. The largest of three caravans, owned by the Rotary Club, was used at the Water Street outreach. Two smaller units, owned by the ministry are currently stationed on the East Coast and on the Corentyne coast.
GINA noted that last year, five dentists graduated from the University of Guyana's dental programme while 40 more are currently in training. Others are also being trained through the ministry's dentex programme in an effort to expand dental care which will be supplemented by the Rotary Club which has committed to providing additional chairs.
Principal Dental Surgeon Dr Shameer Ali said that while existing resources are being stretched there is still an ongoing school programme where students can benefit from eye screening and dental care. He said the Vision Now programme has been initiated to extend the school programme in New Amsterdam, Region Six and Linden, Region 10, and even to the Essequibo Coast. This expansion will also be done in collaboration with the Rotary Club. Dr Ali noted that Colgate/Palmolive Guyana Limited has also been a stalwart in the school dental programme and provides learning materials and dental kits for students. The company also provides stipends to some of the ministry's dental staff who are involved in the school programme.
Around the Web