A 15-month-old European Union (EU)-funded Child Protection Project is about to come to an end and according to the coordinators not only have many parents been reached in the target communities, but they have observed marked changes in parenting skills among residents.
The Help & Shelter-coordinated project, which was co-funded by the Atlanta-based Concerned Citizens Against Domestic Abuse, was done in Sophia, Hague, Zeelugt and Good Hope.
The project, which comes to a close this month end, aimed to raise awareness of child protection, non-violent discipline and alternative parenting methods within the target communities. It also sought to introduce standard protocols for child care and health caregivers in the community, to enhance their ability to detect child abuse and their responsibility within the child protection system.
According to project coordinator Colin Marks, at a round table session yesterday on the project, they also worked to empower families and children and offer support in counselling and other services and to create a working coalition of persons, organisations and groups to respond to children in vulnerable situations within communities.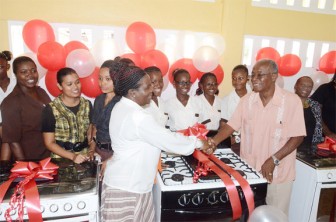 Speaking to a small group of mostly women at the National Library Annex, Marks revealed that during the almost 15 months, 51 parenting programmes were held in the four communities resulting in 652 parents, 102 teachers and 277 youths being reached. Child abuse posters and parenting booklets were printed and disseminated within the communities and a community-based parenting model is now a work in progress.
Other successes of the project were the training of 60 health care professionals and 21 teachers, including church teachers, while 322 child abuse definitions and child protection handouts were distributed. Further, Marks said, through the project, 77 children received therapeutic interventions, 'be safe' sessions were conducted with 387 children and 493 children were reached in nursery school sessions and other engagements within the communities.
Importantly, 72 children were referred to the Child Care and Protection Agency for intervention, nine were placed in foster care, five were reintegrated into school, four families were referred for social assistance and seven parents referred for counselling and support.
Meanwhile, Marks said three of the communities have since formed action groups to promote child safety and work at organizing parenting sessions in their community. More persons, he said, are now reporting child abuse using the child protection agency hotline and there has also been an increased understanding of the child protection system. The groups have also taken on the responsibility of disseminating the literary and non-literary materials that promote the safety and well-being of children. Significantly, members of parent teachers associations and community policing groups are also members of the action groups.
Around the Web