Speaking with Stabroek News on the issue, Minister of Health Dr Bheri Ramsaran said, "The whole picture was not given when the bill was tabled in Parliament because if you look closely you would see that the money stated that was lost was not for one year. It was an accumulation of years say five or six… Also, no one mentioned what was gifted, what had short shelf life and what percentage of losses is acceptable for countries and by comparison how much was spent on drugs overall. "
Multiple attempts made to contact former minister of health Dr Leslie Ramsammy, under whose tenure the errors were said to have occurred and the audit carried out, but these proved futile.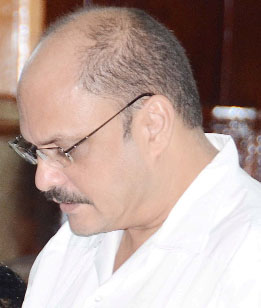 In the Auditor General's report tabled in Parliament earlier this month it said that during the period under review, the Ministry of health "continued to suffer losses due to expiration of large quantities of drugs. Note-worthy was the fact that destruction of expired drugs valued at $39.955 million had occurred."
Further, it said, there was a large quantity of expired stock still on hand pending processing and destruction.
It was to this end that Ramsaran noted that the Food and Drug Administration, the only authority he said that could destroy the drugs was severely under staffed contributing to expired drugs being stored for long periods at the Ministry of Health and subsequently counted as losses when the ministry was audited. "I agree that the drugs should have been destroyed but when there is only authority that can carry out that exercise is it is under staffed we have to keep them until such a time…," he said.
Further, he said, when one examines and compares the over half a billion dollars that his ministry spent in drugs for one year alone the figure quoted in losses was minimal.
He explained that globally it is expected that a percentage of drugs procured will be lost to expiration owing to non use and other factors.
He said Guyana was no exception since, for example, given the unpredictable weather patterns the health ministry would have to always have on hand preventative and curative medications to tackle diseases associated with flooding. If it is a year when there is no flood then the drugs, mostly antibiotics with short shelf life, would have to be liquidated.
While not detailing what planning goes into the purchasing of drugs to ensure that they match the demands of the country, Ramsaran stated that the Ministry of Health tries its best to keep track of the supply and demand trends and gave reference to the computerized tracking system currently being implemented.
However, he said corrective measures would have to be taken to endure that there is not a reoccurrence.
During a verification exercise at the ministry's Kingston stores, the Auditor General's team found a series of unsatisfactory practices where several entries in stock ledgers were made in pencil and the records were not balanced. "In addition, there were instances where receipts and issues of stock were not recorded and there was a failure to reconcile stock ledgers with bin cards.
As a result, the vital control mechanism for ensuring proper accountability for stock was not in place," the AG's report said.
Around the Web