Seven years after he left this country secretly, fearing for his life and under "tremendous stress", former auditor general Anand Goolsarran has returned; he has no plans to return to his former position but wants to contribute to Guyana employing better accounting practices when dealing with taxpayers' money.
Goolsarran fled Guyana just as the infamous dolphin scandal reached boiling point and he believes that had he not left on January 1, 2005 he would not be alive today.
"I honestly believe that maybe I would not have been alive today…," Goolsarran told the Sunday Stabroek in a recent interview, during which he spoke about the 15 tumultuous years he served as auditor general, which began under the latter years of the PNC rule.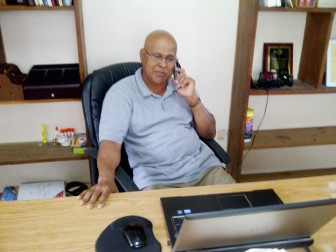 "The day I delivered my report to the Speaker of the National Assembly on the 31st of December 2004, within 24 hours I was in New York. Nobody knew," Goolsarran said in the revealing interview.
He believes that his office and home phones were bugged and that tapes were made and he feels that these still exist today.
He left Guyana for the US where he took up the post of executive secretary to the United Nations Board of Auditors and the Panel of External Auditors; a job that he said was offered to him at the opportune time. He has now retired from that job and his US visa has expired, hence his return to Guyana.
Even though years have elapsed since he served as the country's auditor general the 62-year-old became very emotional as he spoke about being maligned and publicly ridiculed for his ethical decision to ensure that taxpayers' monies were accounted for.
As he spoke, Goolsarran took out some yellow files which contained newspaper clippings, chronicling his years as auditor general. He plans to one day put the clippings into a book form.
"This is the story of my life from the period 1991 to the time I left office…," he said, revealing that periodically he goes through the clippings.
Goolsarran said he is no longer afraid. He has served Guyana faithfully and whatever happens, happens since he would rest in peace knowing that despite all the abuse and attacks, he served in the interest of the people.
While he wants to continue to serve the country in line with his professional capabilities Goolsarran ruled out any form of political activity saying that he is "turned off" by what is deemed politics in today's Guyana. He wants to see a political culture that deals with issues on their merit instead of bringing the party line into everything.
Final straw
The dolphin scandal, which had ensnared Presidential Advisor on Empowerment Odinga Lumumba, was the final straw of frustration for Goolsarran. He recalled that he was in Africa–serving for two years as the chief resident auditor of the UN peacekeeping missions in Sierra Leone and Liberia on no pay leave–when the media broke the story that Lumumba was exporting dolphins. While it was reported that the Office of the President (OP) gave approval, the office denied this stating that it had offered a 'no-approval'.
The auditor general's office was written to by OP and asked to investigate whether the letter it wrote constituted approval. Goolsarran said when he returned, the report, prepared by the acting auditor general, was completed and he did not look at the content, but instead sent it off to OP. The report had concluded that the letter did not constitute approval and an elated OP released the report to the media. It was reported on extensively.
Later, the media was very critical of Goolsarran's office and it was flayed in the eyes of the public and this forced him to announce that the issue would be revisited. "Then all hell broke loose… hell broke loose. I was personally maligned. I was personally attacked. Nevertheless, I took all the public insults and I did what I am supposed to do: I revisited the issue," he said.
During his investigation, Goolsarran discovered a $50 million fraud which had not been uncovered previously and he issued a report about two months after the first report in which he revisited the letter, quoted what it said and left it up to the reader to decide whether that constituted approval by OP.
He said the acting auditor general at the time should have declined to investigate whether the letter constituted approval as "if it is getting into the realm of politics he should have declined."
After the report was issued, Goolsarran said, he was again maligned, humiliated and attacked and no one went to his rescue even as he was ridiculed. His request to have his years of service–including eight years of teaching practice–combined and for the gap of four years he took to study not reflected as a break in service, was used as a weapon against him.
According to Goolsarran, the bridging of service was routine but it was left up to the Minister of Public Service. His request was refused and he was later accused of attempting to influence a breach of the rules. He was also accused of asking a personal favour. But according to Goolsarran it had been done in the past, the government continues to do it and it is not a breach of the public service rules.
"I can live with my small pension,  whatever that is," he commented.
Things got even uglier for him when he  received a call from a very senior official at OP who told him that the office had confirmed reports that he was about to "disturb the peace of mind of the Office of the President and they would like me to know that they were bracing for the onslaught."
Goolsarran firmly believes that his office and house phones were bugged and that tapes were made of conversations he would have had.
"Just like you had the Winston Felix tapes I have reason to believe that there is still a tape… and I don't know who was taped. Anyone who was critical of government at that level…," he said.
'Turned off'
Saying that he is "turned off" by the politics of Guyana, Goolsarran said he is not attracted to any political party since politics is based on other considerations instead of looking at the merits of issues.
"I find it difficult to be part of a process that cannot analyse a situation and decide on the merit of the issue at hand…," he said.
He believes that whatever persons personally and conscientiously believe in they must take into the political arena instead of ducking their beliefs in favour of sticking with the agenda of a political party.
He noted that he is a professional and he wants to remain that way as he wants to maintain his professional independence.
"Since I have come back I have chatted with a number of people who are politically aligned and therefore I have a difficulty engaging in an intellectual discussion on an issue [because] when you are in politics and you are politically aligned you find yourself promoting and defending what your party is saying even if it is indefensible."
He is totally at peace with himself and feels if he gets into politics he would be attacked.
"People say I am thin-skinned and yes I am thin-skinned because the little things hurt me and so if I get into politics somebody is going to attack me and they are not going to attack me [alone] they are going to attack my family. They are going to do all sorts of things…," he said.
The former auditor general said he is scared at times to even write letters to the newspapers because of the responses, especially by this newspaper's online bloggers who at times do not deal with the issues raised but disintegrate into personality attacks.
'Happy to serve'
"I would be happy to serve the public's interest in any capacity within the realm of my training and experience," Goolsarran said.
But he has no wish to once again be the country's auditor general as he has "crossed that bridge".
"I am inclined to believe that that would be a retrograde step to go back to a previous position… and I want to make sure that people understand that. I have no interest of going back as auditor general."
Stating that he has moved on, he disclosed that when he took up the post in 1991 under the PNC government his plan was to serve for ten years because he believes in limiting the office of the auditor general as is the case in many other countries.
"It is important that the tenure of office is limited so as to protect the independence of the office of the auditor general…," he said, even though he ended up serving close to 15 years.
He said his job had become "stressful from the point of view that my work as auditor general, overseeing what the government does or what the government did would have taken me into an area where I would have been critical of the operations and instead of getting the necessary support I found that I was on the receiving end."
He said it came to a point where he could no longer do his job which was to watch over the government and "say it as it is". It was his understanding that the powers that be would have taken his work in good faith and improved operations but that was not to be.
Goolsarran recalled that he came under tremendous attack for speaking freely to the media on matters relating to the public interest. "I was not disclosing contents of reports so I was not breaching any confidentiality with [either] government [the PNC and PPP/C]… I believed in openness and transparency because you are dealing with public funds, taxpayers' money."
He said taxpayers have a right to know through their representatives and the media and he said the media was serving a very good purpose by visiting his office and seeking information.
"I believe that the media must be your ally. You must not be seen as a once a year auditor general submitting your report to Parliament…," he said.
He is open to offering his service as an advisor on financial matters or a consultant on public financial management. He disclosed that the UN recently successfully implemented an International Public Sector Accounting Standard which replaced an outdated accounting system and it is a direction he would like to see Guyana move in.
"I would be happy to be part of an effort because as auditor general for 15 years I [had] been trying to promote better practices…, to recommend better ways of doing things so it would be seen as a continuation of my efforts to assist the country based on my skills," he said.
He stressed that compensation is a secondary issue for him as what is important is lending his services to improve the accounting framework of the country.
New dispensation
Asked about the new dispensation in Parliament Goolsarran said that as has happened in other countries, the overriding consideration has to do with providing checks and balances; "somebody must be accountable to somebody."
He said Guyana is a "special case" and he would reserve his judgment as only time will tell what will be the outcome of the new situation, even as he stressed the political maturity is going to decide what happens.
"Politicians have to rise to the new challenge because there are successful models out there. The best countries in the world are the best countries because they have checks and balances …between the executive branch of government and the legislative branch." He pointed out the executive branch executes laws, the legislative branch makes laws and the judicial branch interprets the laws.
"If you put the executive branch to execute laws and to make laws is like cat watching milk," he said adding that the Westminster model of government has outlived its usefulness. Countries like Guyana that have come out of the British system now need to carve a new political culture for themselves.
Goolsarran said he was in Parliament when the politicians were debating the contingency fund and he saw the "bitterness and hostility" among politicians, all of which he said was an overflow from the elections period.
"It is not something I was proud of. I left about an hour after and I felt disappointed. …What I saw that day made me wonder if they were really serious about serving the public's interest."
The level of heckling and cross talk among the politicians did not go down well with Goolsarran and he questioned when they are going to decide they are there to serve the country and respect each other as they find a middle ground whenever there is a disagreement so that the country can move forward.
He also believes that it is important that the country's citizens make decisions on the basis of issues rather than race.
Around the Web