Head of State Donald Ramotar has said that while problems exist in Caricom, there is no crisis in the movement as was being sensationalised.
Under the chairmanship of President Dési Bouterse, Caricom Heads of Government engaged in discussions at the 23rd Inter-Sessional Conference in Suriname on key issues relating to the integration process and concerns and proposals raised by UK-based consultancy Landell Mills Ltd, which was commissioned to conduct an organisational review of the Secretariat. In the report, 'Turning Around Caricom: Proposals to Restructure the Secretariat,' the consultants recommended that Caricom develop a five-year strategy to prioritise long-term goals into specific outcomes that can be achieved in a relatively short timeframe for the movement's recovery. The consultants also proposed setting up of a temporary Change Office to support the Secretary General in the restructuring, which Heads of Government green-lit in Suriname.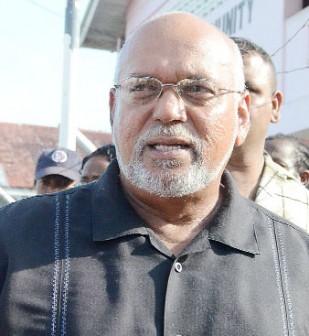 "I refer to the subject of the report commissioned by the heads of government on the restructuring of Caricom Secretariat. This has formed the basis for us to move forward to examine the recommendations and to implement those which can be implemented within the shortest possible time while we review others which would require deeper analysis before either adopting them or agreeing that they would not be necessary to the process for change at this time," Ramotar told a news conference on Friday.
However, the president said it was agreed that Caricom is not in crisis and he added that existing problems are not insurmountable. "Solutions to my mind can be readily achievable through stronger political will and a renewed commitment to integration," he said. Ramotar added that Guyana is fully supportive of the Secretary General being given the approval to appoint a change facilitator to move ahead with restructuring as well as the process to draft a five-year strategic plan in time for the consideration for the next meeting.
Ramotar also noted that issues of regional crime and security agenda also engaged the attention of the Heads of Government and they have agreed that this should remain a priority, with focused attention on review of the security institutions.
He also pointed out that with United Nations conference on environment and sustainable development -the Rio+20 – scheduled for June in Rio de Janeiro, it was important for them to review preparations for this event. "This is a particularly important meeting for Guyana, as we intend to use this opportunity to further promote our advances with regard to the Low Carbon Development Strategy," he said.
He also noted his recent meeting with President of Chile Sebastian Pinera, during which matters of regional importance were discussed. In addition to this, areas which can advance a programme of cooperation between Guyana and Chile were also discussed.
"We agreed that there was much potential in agricultural areas and in the mining sectors. Chile will host the first summit of the Latin American and Caribbean Community of nations and president Pinera extended an invitation to me to attend that summit in January 2013," he stated.
Ramotar also indicated that he will be leaving for Antigua shortly for a meeting of the Special Prime Ministerial Subcommittee on Cricket in the region and later to Brazil for a working visit at the invitation of President Dilma Rousseff.
Around the Web