Five months after a Foulis, East Coast Demerara businessman was killed during an armed robbery his relatives are still struggling to cope with the loss and are peeved that the police are yet to apprehend the killer.
"It's a hard hard task without him," said a grief stricken Latchmedia Nauth who has now been forced to run the business singlehandedly in order to support her family. Her husband Purushotan Nauth died days after he was shot during a brazen daylight robbery on October 3, last year.
The day her husband died will always be etched in her mind as she never expected that he would leave her. She explained that doctors had indicated that his injuries were so serious there was a great chance he would have been speech impaired or paralyzed.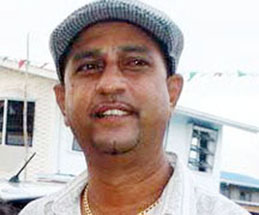 Speaking to Stabroek News recently Nauth said that justice for her family is the only thing on her mind. "I hope to still get justice. To lose a husband is hard," she said.
The mother of two said she is surprised that the perpetrators are yet to be caught, adding that "it is heart rendering that there is nothing from no one. My husband just get shot and rob and we lef alone." The men who shot Purushotan Nauth escaped with $7 million.
The grieving widow said that five months after her husband's death there have been no new developments in the case. She explained that a driver who was with her husband at the time of the incident was called several times to identification parades.
She opined that the incident that cost her husband his life was well planned and once again zeroed in on a deposit book which was stolen a few months earlier.
According to Nauth, they were increasingly worried after that incident and made every attempt to use different routes and vehicles when heading to the city to look after business. But she said that the time her husband left home to do these transactions remained the same.
She recalled that that tragic day started out quite normal. She recalled that she and her husband left home for their business located in another East Coast Demerara village. Unlike previous occasions, her husband did not enter the business to help out before proceeding to Georgetown. Instead he collected a driver and left with a bag of money to be deposited at a city bank.
The driver, Nauth explained, would rarely transport her husband.
Around 7.45 am, her husband called and informed her that he had been robbed and in the background, she heard the driver saying that he had been shot.
The woman said that she began crying and after completing business headed to the Georgetown Public Hospital where other relatives had already gone.
Later her husband recounted to her that he did not immediately realize that he had been shot.
The woman told this newspaper that shortly after the gunman approached, her husband had said, he felt his face getting numb and let go of the bag of money he was holding.
Nauth explained that the numbness was experienced after the bullet which entered through his shoulder lodged in his right side jaw after passing through his throat.
At the hospital, she said, her husband related to her amidst tears that as they were attempting  to over take a white car, their path was blocked. While travelling along the Lusignan public road, she said, the car made a sudden turn into the path of the vehicle her husband was in forcing them to stop.
Nauth said her husband related that a well-dressed man holding a notebook and pen approached the vehicle and thinking that it was the police he wound down the window to apologize to the person on behalf of his driver.
The person, she said, just said "pass de f…ing bag". Another man, who was armed with a gun, went up to the driver's side window and used his weapon to break the glass. The gunman, with his weapon trained on the driver, demanded the keys to the bus. She said that the driver could not get the keys out of the bus.
Apparently there was another vehicle behind the bus Nauth's husband was in. One of the bandits came from the front vehicle and the other from the back.
At some point, the businessman was shot.
Wise decision
Nauth said that at Georgetown Hospital, she was told that the bullet would have to remain in her husband's body, but it was not life-threatening. She said that later she noticed that he had lost his voice.
Not satisfied with the care he was receiving, she said, she opted to move him to another medical institution, a decision she is not regretting. For her, she made a very wise decision in an attempt to save her husband's life.
She said her husband insisted that he wanted the bullet taken out of his body and as such an operation was scheduled shortly after he was admitted.
Following the surgery the doctor told her that her husband would have had to use a straw to eat for an indefinite period. She said she was shocked to learn that the bullet was heading to her husband's spinal cord.
"He could have been paralyzed and it [the surgery] was just a risk we had to take. If he was alive he would have been dumb cause he wasn't able to speak, drink or eat anything," the woman stressed.
She said that when she visited the hospital the day after the surgery (October 5), he was unconscious but when she visited the following morning she met doctors around her husband trying to resuscitate him. After around 15 to 20 minutes she said, she was told that he had died.
"A lot of damage was done and the doctor said that he had internal bleeding," she said adding that had Georgetown Hospital acted immediately her husband could have been alive today. She said that the x-ray done at that institution showed where the bullet was but the damage it left behind was not evident.
The woman said her husband's death has taken a toll on their youngest child who is 13 years old. She said the child's schoolwork has been greatly affected by the tragedy. She said the child was very close to his father.
She said she too is feeling the strain of her husband's passing.
Nauth advised all business persons to be careful when transporting money to bank. Describing the incident as unfortunate she said that in the 14 years, she and her husband were operating their business, they had a routine. "Do things differently," she advised.
Around the Web