Fifteen years after a farmer was found dead in a shallow grave in the Strathavon, Cane Grove, Mahaica, East Coast Demerara backlands, relatives are still waiting on the police to make an arrest.
Over the years, they say, it has become evident that the motive for the death of Amar Persaud was land related as within a year of his death, his three and a half acres of land had been cultivated into rice field without their consent.
They said that even though police were given enough evidence to launch an in-depth investigation nothing was done, leading them to believe that the person they suspected might have paid his way out of a sticky situation.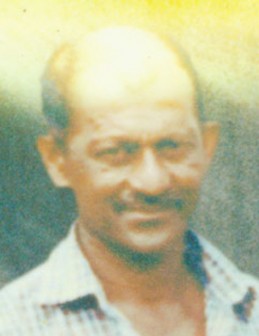 Persaud's lifeless body was discovered in a paddy bag, stuck in a shallow grave beneath some coconut branches several days after he disappeared on July 27, 1996. A post-mortem examination on the 56-year-old revealed that he died as a result of a fractured skull.
Recently, the man's youngest son, Anand Persaud, visited Stabroek News outlining his frustrations over his father's unsolved murder. He called on the police to reopen the investigation and use the information they had been provided with.
According to Anand, his father owned two plots of land at Strathavon where he cultivated cash crops and also resided.
He recalled that on July 28, 1996 one of his brothers who lives in Strathavon went to his home at Enmore and asked if their father was there.
Anand explained that his father would often go to spend time with him.
He said he immediately became worried as his father had previously confided in him about certain problems he was having.
The man said he accompanied his brother and another man who had gone to his house with his brother, to the Mahaica Police Station where the police were informed of the situation and asked if a search could be conducted. According to Anand, police gave them the go-ahead but advised that if anything suspicious was found, they should be informed immediately.
He said that based on the information he had gathered his father left his farm on July 27, 1996 for a shop in the Strathavon area to have a drink with some other farmers. He said the man subsequently left the shop for home but never arrived there.
He said that July 29, a search party went out and shortly after the search started, he spotted carrion crows in the sky over an area called "cow pen" farmlands located in Strathavon.
He said his father once took care of land in that area.
Anand related to this newspaper that they decided to head in the direction of the birds and on arriving at a spot, they noticed coconut branches "bed off like when people setting seed to plant back the land".
The man said that on closer observation however, it was realized that the seedlings bed was not properly prepared. "I felt to myself that something look fishy," he said adding that some of the searchers went to get the police while he remained.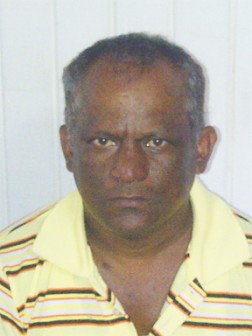 He said there was no odour to indicate that something dead was there but the sighting of the carrion crows was a sign.
Police, he said, later arrived on the scene and while he did not venture too close, his brother, who was part of the search team, used a shovel to dig up the area under the coconut branches.
Anand said they uncovered his father's body in a paddy bag.
His brother and two other men were later arrested and released.  Anand made it clear that his brother was in no way involved with the murder and was only held because he and his father had previous problems that had engaged the police's attention.
Those arrests were the last he heard of the matter.
He said that over the years he had visited senior police officers on the East Coast to express his concern over the sloth in the investigation but to no avail.
Killed for land
Anand said he believes his father was killed for his land. He said the police were given this information but it wasn't acted on.
He said that following his father's death, a person known to him dismantled the house and started planting rice. He explained that this person had been behind his father for years to buy the land.
Anand said his father had often confided in him about this issue.
The last word he had was that his father had told the man that he would contemplate selling the land in August (1996). "But look wha happen, he come out dead. He bury first of August," the man noted.
He explained further that his father's remains were found about a 15-20 minutes walk from his farmlands opining that his father was attacked and killed as he made his way home. He said that based on the murder scene he is convinced that his father's murder was premeditated. The shallow grave, for example, he said, was probably dug beforehand.
He believes more than one person was involved in the incident.
Anand is calling on the police commissioner to look into this matter "so that we can have some justice".
According to Anand there is too much overwhelming evidence for the police just to ignore.
He is clinging to hope that even though so much time has passed, he will one day know the truth about his father's death.
Around the Web