(Windiescricket.com) GROS-ISLET, St. Lucia – To a cacophony of noise, Darren Sammy treated a capacity crowd packed to the brim with his countryman to a pyrotechnic display, but West Indies narrowly failed to win the rain-affected fifth and final Digicel One-day International against Australia on Sunday, sinking to a 30-run defeat.
To chants of his surname, the beating of drums, horns hooting and whistle blowing, Sammy struck six fours and six sixes from 50 balls, transforming the Beausejour Cricket Ground from a funeral procession into a near Caribbean street party, bringing his side incredibly close to overhauling a victory target of 282.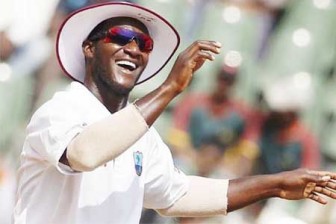 Entering to a tumultuous roar from the capacity crowd, Sammy brought West Indies from the depths of 118 for seven, putting on a West Indies eighth-wicket record of 101 with Andre Russell, hobbling with a knee injury, before sheer exhaustion and the burden of responsibility weighed too heavily on his shoulders.
Russell propped things up with 41, Adrian Barath scored a workmanlike 42, and Kieron Pollard made 33 for the hosts, who were looking to secure their first ODI series victory over the Aussies in close to two decades.
Sammy fell with 16 balls remaining, caught inside the mid-wicket boundary off Ben Hilfenhaus trying to hit a six to ease the tension, leaving the thousands that turned up deeply disappointed.
The result meant that the five-match Digicel ODI Series finished levelled 2-2, after West Indies lost the first Digicel ODI by 64 runs two Fridays ago at the Arnos Vale Cricket Ground in St. Vincent, where they rebounded to win the second Digicel ODI by five wickets two days later, before earning a tie in the third Digicel ODI last Tuesday at the same venue, and a 42-run victory in the fourth Digicel ODI two days ago.
Purposeful bowling from Russell had led a West Indies fight-back after David Warner, Shane Watson and Peter Forrest plundered half-centuries to headline Australia's batting.
The mohawk-shaven Russell grabbed four wickets for 61 runs from nine overs, as the Australians, sent in to bat, posted 281 for nine from their allocation of 50 overs at the Beausejour Cricket Ground.
Kemar Roach supported with three for 53 from nine overs and Sunil Narine snared two for 55 from 10 overs, bringing the Windies back into the match.
The hosts were under the gun early, as Warner led the way with 69, fellow opener Watson, the Australia captain, scored 66, Forrest made 53, Matthew Wade got 26 and Mike Hussey added 25.
The chase started horribly for West Indies and the scores of local spectators, when opener Johnson Charles, another hometown boy, was caught and bowled for a duck to Brett Lee in the first over, miscuing a hook at a short, rising delivery.
Marlon Samuels lasted just two balls before he was caught behind for a duck, gloving a rising ball from Lee in the third over, leaving West Indies five for two.
Darren Bravo joined compatriot Adrian Barath, stemming the fall of wickets, but failed to set a quick tempo before he was caught behind off Clint McKay for 21-ball three, offering a thin edge in the 13th over.
Elder brother Dwayne Bravo tried to accomplish what the younger brother had failed to do, but was caught at extra cover for 19 playing an uppish drive in the 18th over.
West Indies sunk to 76 for five in the 23rd over, when Barath was caught at deep mid-on off left-arm spinner Xavier Doherty trying to increase the tempo.
Pollard joined Carlton Baugh Jr and they limped West Indies over the 100-run threshold before they fell within 14 balls of each other, leaving Sammy and Russell to indulge themselves.
Every hefty blow was met with a common local refrain, as Sammy and Russell breathed life back into the West Indies hopes.
But Russell was lbw playing defensively forward to left-arm spinner Xavier Doherty after umpire Peter Nero's not-out verdict was reviewed – and the mountain was always going to get steeper the rest of the way.
Earlier, West Indies were put on the back-foot, when the two Australian Ws, Warner and Watson, shared 118 for the first wicket inside the first 20 overs.
The Windies seemed almost powerless to stop the Aussie opening pair before Narine made the breakthrough, when Warner, whose 50 came from the same number of balls, was caught at short third man/fly slip, top-edging a slog/sweep off Narine in the 20th over. He struck 10 fours and one six from 61 balls.
The hosts continued to leak runs and Watson turned Narine into square leg to reach his 50 from 65 balls in the 22nd over before Russell had Watson caught at third man essaying an upper cut in the 31st over. The Australia captain hit just four fours and one six from 89 balls.
Kemar Roach added the scalp of George Bailey caught at mid-on in the 37th over just when it appeared the batsman was about to move into high gear to put a further check on the Australian advance before a 45-minute stoppage for rain forced the players off the field.
When the players returned, West Indies got a breakthrough in the second over following the resumption, when Narine bowled Lee for 12 with the batsman playing across a well-flighted delivery that spun back between bat and pad.
Forrest reached his 50 from 64 balls in the 43rd over, when he punched Roach to long-on for a single, but he faced just four more deliveries in his knock that included five fours before Russell stepped in to have him caught at mid-wicket pulling and David Hussey caught behind top-edging an upper cut off successive deliveries in the 45th over.
In the closing overs, Russell and Roach shared three cheap wickets in between some hefty blows from Wade in particular.
The two sides now contest a pair of Digicel Twenty20 Internationals – the first in two days time at this venue.
SCOREBOARD
AUSTRALIA (maximum 50 overs)
*S. Watson c Samuels b Russell 66
D. Warner c D.J. Bravo b Narine 69
P. Forrest c Roach b Russell 53
G. Bailey c Russell b Roach 19
B. Lee b Narine 12
M. Hussey c Pollard b Russell 25
D. Hussey c wkpr Baugh b Russell 0
+M. Wade c D.M. Bravo b Roach 26
C. McKay c D.M. Bravo b Roach 0
X. Doherty not out 1
B. Hilfenhaus not out 0
Extras (b2, lb1, w7) 10
TOTAL (9 wkts) 281
Fall of wickets: 1-118 (Warner, 19.5 overs); 2-161 (Watson, 30.1); 3-193 (Bailey, 36.4); 4-212 (Lee, 39.2); 5-241 (Forrest, 44.2); 6-241 (D. Hussey, 44.3); 7-279 (M. Hussey, 48.6); 8-279 (McKay, 49.2); 9-279 (+Wade, 49.4)
Bowling: Roach9-0-53-3 (w1); D.J. Bravo 6-0-40-0 (w3); Narine 10-0-55-2; *Sammy 6-0-29-0 (w1); Russell 9-0-61-4 (w1); Samuels 10-0-40-0 (w1)
Overs: 50
WEST INDIES (target: 282 off 50 overs)
J. Charles c and b Lee 0
A. Barath c Bailey b Doherty 42
M. Samuels c wkpr Wade b Lee 0
D.M. Bravo c wkpr Wade b McKay 3
D.J. Bravo c Bailey b *Watson 19
K. Pollard c M. Hussey b *Watson 33
+C. Baugh c Hilfenhaus b Lee 13
A. Russell lbw b Doherty 41
*D. Sammy c M. Hussey b Hilfenhaus 84
S. Narine c wkpr Wade b McKay 7
K. Roach not out 2
Extras (lb1, w6) 7
TOTAL (all out) 251
Fall of wickets: 1-0 (Charles, 0.5 overs); 2-5 (Samuels, 2.1); 3-37 (D.M. Bravo, 12.2); 4-63 (D.J. Bravo, 17.6); 5-76 (Barath, 22.5); 6-111 (+Baugh, 28.6); 7-118 (Pollard, 31.1); 8-219 (Russell, 40.6); 9-232 Narine, 43.5)
Bowling: Lee 9-3-42-3; Hilfenhaus 8.2-1-36-1 (w2); McKay 10-0-68-2; *Watson 10-0-44-2 (w3); Doherty 10-0-60-2 (w1)
Overs: 47.2
Result: Australia won by 30 runs (16 balls remaining)
Series: Five-match series tied 2-2
Toss: West Indies
Man-of-the-Match: D. Sammy (West Indies)
Man-of-the-Series: K. Pollard (West Indies)
Match referee: A. Pycroft
Umpires: K. Dharmasena, P. Nero
TV umpire: S. Tarapore
Match referee: A. Pycroft
Reserve umpire:  G. Brathwaite
Around the Web