Banks DIH Limited on Thursday presented a refrigerator to the Bartica Day Care and Drop-In Centre run by the Regional Women's Affair Committee of Region Seven (Cuyuni-Mazaruni), the company said in a press release.
At a simple ceremony at the Banks DIH Limited Bartica Branch Magretta Jhingoree received the double-door refrigerator on behalf of the committee from Banks DIH Communications Manager Troy Peters.
Peters said that Banks DIH was answering the call for assistance from the women's organization as the group is seeking  to improve the lives of residents of Bartica and neighbouring communities.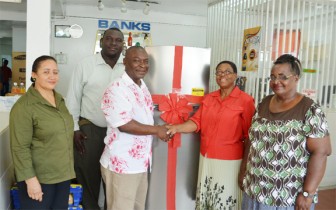 "The management of Banks DIH Limited is extremely pleased to be of assistance to the Region Seven Women's Affair Committee. We are aware of your organization's diligent work to improve the lives of this community and we applaud your efforts," Peters was quoted as saying.
Jhingoree in  brief remarks expressing heartfelt gratitude said the gift came at an opportune time for the committee since there are plans to increase the number of students at the Drop-in Centre.
"At present we have 35 students at the Drop-in Centre and 15 in the Day Care located at Fourth Avenue and Fifth Street and we expect an increase following our ongoing outreach community programme," Jhingoree said.
President of the committee, Mary Charles-Jones said Banks DIH was approached at one of its stakeholders' meetings held in Bartica and the company readily responded.
Also present at the ceremony were Travolta Chance and  Joycelyn Gomes, a member of the Women's Committee.
The Women's Affair Committee works in collaboration with the Ministry of Human Services and the Regional Administration of Region Seven, the release concluded.
Around the Web