Minister of Home Affairs Clement Rohee and Acting Police Commissioner Leroy Brumell yesterday unveiled a plaque in commemoration of the 36th Anniversary of Community Policing in Guyana (CPG) at the La Grange Police Station, West Bank Demerara.
Community policing was said to have been first launched at the La Grange Police Station on March 11, 1976 by then commissioner of police, the late Henry Fraser.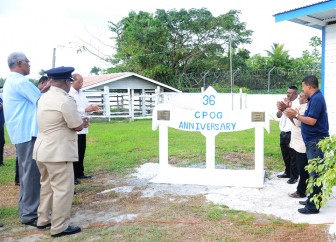 According to 'D' Division Commander Christopher Griffith, in 1975 the late Fraser had the idea of establishing community policing and that materialized after meeting with some businessmen in the La Grange district in March of 1976.
He said the first CPG was established in 'D' Division—at La Grange— and with the support of the communities there are now there are about 259 CPGs in Guyana with over 3,000 members. He added that community policing is here to stay because it has the support of the government unlike other Caribbean countries.
Community policing allows for better organization and monitoring of a community because CPG members will be able to pass on information to the police, who will act upon receiving that and so crimes will be dealt with instantaneously.
Brumell said that the police cannot go it alone; they need to have the assistance of the CPGs to and work together to fight crime. He noted that Guyana was far ahead of the Caribbean in this aspect.
Rohee, who gave the feature address, said, "Without the direct involvement of citizens of our country whether they are a part of the Guyana Police Force, or any other organization that comprises the disciplined services… the fight we are involved will not be successful."
The minister added that anyone desirous of playing a role in crime fighting and prevention should be encouraged to do so.
He said he found the monument fitting since those persons who have dedicated their time and commitment to community policing should be paid homage for the service and protection they gave.
However, he said, some persons are ready to "stand on the sidewalk" or "sit on the fence" and pretend they know everything about fighting crime and that they have all the solutions to maintain law and order.
He said he did not care to lift a finger and point at them referring to them as "arm chair crime fighters" who sit in their air conditioned offices and theorise.
He said the significance of the monument is that it represents an organisation that was established 36 years ago and that has become a household name.
But added, "The best monument we they can build for community policing is to ensure that it grows from strength to strength….to ensure the numbers of community policing membership in-crease."
He also said that he and Brumell had earlier attended the recruits' graduation ceremony at the Richard Faikall Police Training College, Essequibo Coast where the number of new recruits signifies the interest of young persons in Guyana who are committed to be a part of maintaining law and order throughout the length and breadth of the country.
Around the Web