The appointment of acting Police Commissioner Leroy Brumell was illegal as there was no consultation between President Donald Ramotar and Opposition Leader David Granger.
Commentator Christopher Ram in a letter in today's edition of Stabroek News noted that Article 211 of the Constitution provides for the Commissioner and Deputy Commissioner of Police to be appointed by the President after meaningful consultation with the Leader of the Opposition and the chairperson of the Police Service Commission. Specifically, Article 211(2) makes the appointment of an acting Commissioner subject to the same constitutional requirements as the Commissioner.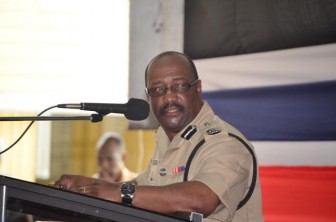 "I am advised that there has been no consultation on the `appointment' of Mr. Brumell. It is therefore my opinion that Mr. Brumell's purported appointment is unconstitutional, null and void", Ram said.
He added "For good measure Mr. Henry Greene who is the substantive Commissioner was required, under Article 211 (3) to vacate office when he attained age fifty five (55). He did not do so because according to Dr. Luncheon the government has entered into an agreement with him to continue until age 60. That agreement too is unconstitutional.
"So we are in the unique position where both the substantive Commissioner (Greene) and the acting Commissioner (Brumell) exist in a constitutional illegality."
If Brumell's appointment is deemed illegal it will call into question all of the actions he has taken in this capacity.
Granger this morning told Stabroek News that he was not consulted in the acting appointment of Brumell as Commissioner even though the Constitution makes it clear that this should be done before any appointment of the top cop or his deputy is made.
"I have not met with the president on the appointment of Mr Brumell, I have not even been told that Mr Brumell has been appointed as acting commissioner," Granger said when contacted.
He said that the constitution does mandate that the opposition should be consulted before a substantive or acting commissioner is made. As a result Granger said that Brumell's appointment is unconstitutional.
Around the Web