Local mobile communications company, Digicel yesterday fired back at rival Guyana Telephone and Telegraph Company (GT&T ) , denying that its financial performance is shrouded in secrecy while arguing that GT&T's complaints were a publicity gimmick to gain sympathy.
At a press conference held at the company's headquarters, in Kingston, yesterday Chief Executive Officer Gregory Deane said that the briefing was summoned to address seemingly "sinister moves" aimed at harming his company's long-term development in Guyana.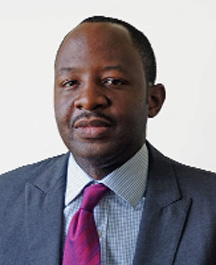 "We find a lot of what was said last week was just another publicity stunt aimed at influencing the future of this legislation…they painted GT&T as a victim to either(a) delay liberalization or (b) achieve some type of protection in what should be an open liberalized sector" said Deane.
Last week GT&T through its CEO Yog Mahadeo told members of the media, at a brunch, that (GT&T) could eventually lay off workers and increase rates in three years if it continues to be hindered by unfair competition. It cited Digicel as being given preferential treatment and noted that Digicel needed to be transparent and release its financial reports to the public.
Digicel's CEO expressed shock at Mahadeo's statements and called them "blatant lies" while denying that his company was being shady about its dealings in Guyana. To this end he informed that like GT&T his company is required to issue reports of its performance to the relevant authorities: the Public Utilities Commission and the Registrar of Companies and has always done so.
"The only difference in statutory reporting of Digicel and GT&T is that GT&T sends their report to the government …but the government is a shareholder of GT&T so why should they not report…we report to our shareholders too", he said.
Dean added that the 45% corporate tax that GT&T complained was burdensome and a huge cut from their profits, Digicel was also required to pay.
Further, he stated that because there was no stipulated amount to be paid in spectrum fees to the NFMU both entities pay monies into an account until spectrum fees are regulated.
Both companies have been negotiating for over five years with the NFMU on payment rates among other issues. To date Digicel has some $300-400M in that account.
Mahadeo had also said that when an analysis of Digicel's mobile operation was done by his company it illustrated that it was making over 100% profit when compared to GT&T.
Dean said he found alarming that GT&T would state a comparison of profits when they said they had disclosed to the PUC that they were not sure of their mobile traffic and earnings. Addressing the disclosure of their financial performance to the public, Deane still would not comment but in defence of his actions said "We are in a very competitive field where financial information is very important to our competitors and I would say it would be the same for GT&T. As a result, we chose not to discuss that financial information publicly."
The CEO called on government to clear the air on telecommunication legislation since the company feels that GT&T last year  used stalling tactics to have legislation breaking its monopoly postponed, a move that profited them in many ways.
Deane said that if  GT&T felt that "extreme losses" would trigger "rightsizing", his company would welcome the opportunity to manage their network since he knows for a fact that GT&T has a major advantage and there is no way they could be suffering losses as declared by their CEO.
Digicel said they anxiously anticipate an open liberalized and competitive playing field since no monopoly is good for development coupled with the fact that they want to vibrantly upgrade their services to keep abreast with global needs and demands.
Around the Web