Minister of Foreign Affairs Carolyn Rodrigues-Birkett and UNICEF Guyana/ Suriname Representative Dr. Suleiman Braimoh yesterday signed the Country Programme Action Plan (CPAP), which is expected to foster rights of children and target gender equality.
The programme, which represents an investment of US$15.2 million by UNICEF, was developed through an agreement with the government and will support national priorities and policies of increasing social issues for child survival and protection, adolescent development and parliamentary reform as it relates to legislation for the protection of children and women.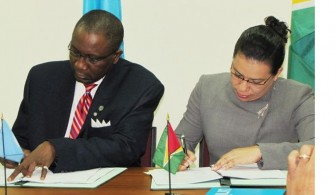 According to a statement circulated at the signing, in preparing the current CPAP, government and UNICEF embarked upon a comprehensive review of the previous plan.
In an effort to streamline the plan to address areas where more work needs to be done, there was special focus on identifying the areas of significant achievement in policy advancement, establishment of best practices in Early Childhood Develop-ment, Child Protection and Development and Child Survival as well as Adolescent Development.
In an invited comment, Braimoh said that with respect to the rights of the children, the first area is described as a policy walk which is designed to actually provide the operating environment and the context in which programmes can be implemented to achieve more.
The latter part will be to ensure that programmes are accurately implemented.
Braimoh said that they will be required to work with various ministries as they address different issues. "It's not a matter of protocol; Foreign Ministry is in charge of coordinating all foreign assistance that comes in to Guyana.
Different aspects of the programme will be implemented with the different ministries. [For] example: protection, the Ministry of Human Services and Social Security will handle this; health issue, Ministry of Health; legal issues, we will have to work with all parties to address that," he explained.
Braimoh further stated that since the start of his tenure two years ago, he has observed not only in Guyana but worldwide, the people, government and organisations evolving from situations where development is only talked about in a broad light to now speaking about developments already made to the point where every category of people in the society benefits.
Around the Web