President Donald Ramotar is optimistic that the Inter-American Development Bank (IDB) would eventually agree to finance the Amaila Hydro Project, since in the long run the project would have national benefits and make a positive impact in regional efforts to combat climate change.
During their visit here in January, officials of Sithe Global, the developer of the hydro project, said that the IDB was yet to sign off on the loan for the project. According to those officials, the concern was whether the Guyana Power and Light could effectively manage the power to come from the facility.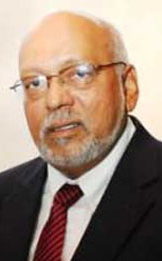 The President recently had a meeting with IDB President Luis Alberto Moreno and he said that the issue was up for discussion.
"Up to that time the loan had not passed their Board as yet but I am very optimistic that it will, but I don't want to go into more details because these are things that have not yet been concluded," Ramotar told a news conference at the Office of the President last Friday. "I am optimistic that [this will come true]," he said.
"The very fact that the IDB President came here is itself a good sign and the reports from my technical people who are working with them is that the impression is IDB itself would like to have such a project done in our country because it would be for them a big contribution [from them] in the whole fight against climate change," he said.
The Sithe Global officials had disclosed that the World Bank, which usually lends its support to projects like this, chose not to participate in providing financing for the Amaila project.
The President also pointed out that the money from the Norway Fund that has not yet been released can also go towards the Amaila project. "I am confident that the money will be released because we are targeting that money to be spent in areas in which we can make an impact on the whole global issues of climate change… the Amaila falls project would move us from being 90 percent [dependent] on fossil fuel to a country where more than 90 percent of our energy would be      generated from renewable resources," the President said.
Around the Web