Mortgage charges brought by authorities in New York against US cricket captain and former Guyanese player Steve Massiah were dropped last week Monday following a motion by the prosecutor before Judge Joan M. Azrack.
Massiah had been in plea deal discussions with prosecutors  and the dropping of the charges suggests that some arrangement has been arrived at. Court documents seen by this newspaper only stated that the US authorities filed a motion to dismiss the complaint without prejudice and the judge sitting in the United States District Court, Eastern District of New York granted the order the same day.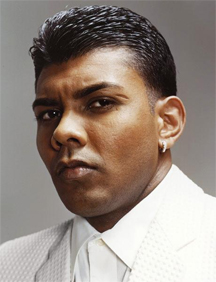 Massiah and two others: Qayaam Farrouq and Mohamed Gurmohamed were charged in November in New York with defrauding banks and mortgage companies by falsifying mortgage- loan applications to make borrowers appear more creditworthy to financial institutions. The case is connected to that of Guyanese businessman Ed Ahmad who has also been indicted on mortgage fraud charges in New York.
Ahmad had also been in plea deal discussions with NY prosecutors but his trial is set to commence on May 12.
In late December, court documents had indicated that Massiah was working out a plea deal with authorities and an agreement was set to be reached by last January.
According to those court documents on December 16, 2011 Massiah and the US government jointly requested from the presiding judge that the period from December 13, 2011 to January 13, 2012 be excluded in computing the time within which an indictment must be filed or information provided as the parties are engaged in "plea negotiations which they believe are likely to result in a disposition of this case without trial".
Massiah was out on US$150,000 bail and his passport had been confiscated.
In a complaint and affidavit in support of an arrest warrant, FBI agent Bryan J Trebelhorn had stated that that Massiah, the other two defendants and co-conspirators defrauded various lending institutions by obtaining mortgages on properties located in the eastern District of New York and elsewhere through fraudulent means. The falsified information made the borrowers appear more creditworthy and fraudulently enhanced the purported worth of the properties. Consequently, the lenders were fraudulently induced to issue mortgages.
The co-conspirators also fraudulently gathered fees and commissions in excess of those permitted by the lenders.
The complaint against Massiah had cited a property in Jamaica, New York. Trebelhorn said that the mortgage application tendered by Massiah included numerous falsities as to his creditworthiness.
For example, it said that he was earning US$6,650 per month as a catering manager at a business which was owned by co-conspirator one. Further, the mortgage loan documents falsely stated that Massiah planned to occupy the Jamaica property as his primary residence.
The mortgage application was also accompanied by a certification of employment for Massiah to the effect that a manager at the catering business had verified that Massiah had been employed at the catering business – Ahmad's own – since November 2002.
Trebelhorn had said his investigation showed that Massiah never worked at the catering business but rather as a real estate agent with Ahmad's realty.
"On July 13, 2011, I interviewed Massiah, who stated, in sum and substance, the following: (1) he never worked at the Catering Business; (2) in March 2007, he was employed as a real estate agent at the Real Estate Company; and (3) he never intended to occupy the Jamaica property as a primary residence". Further, he said he had purchased the property in association with co-conspirator one even though the latter was not listed as a borrower on the mortgage application.
Trebelhorn had further stated that two cooperating witnesses had told the US government that they knew Massiah socially and professionally and that he worked as a realtor but not a caterer.
One of the witnesses said that Massiah had purchased multiple properties on behalf of co-conspirator two.
Trebelhorn swore that real estate records showed that Massiah resold the Jamaica property on May 1, 2007, two months after purchase.
After speaking with the purchasers, Trebelhorn said he believed that Massiah acted as a straw buyer for co-conspirator one. He noted that the purchasers never met Massiah nor did he make any mortgage payments on the Jamaica property.
Around the Web