Nezaam Ali, the Muslim scholar who was charged with sexually molesting three boys, yesterday faced two new charges.
Ali, 30, of Lot 268 Section C 5 South, Turkeyen, was granted bail in the amount of $200,000 on each charge when he appeared before Magistrate Alex Moore at the Sparendaam Magistrate's Court. He was not required to enter a plea as the charges were indictable.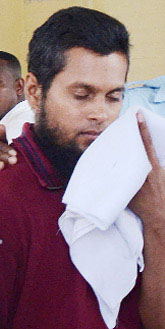 Last month, Ali, who was a teacher at the Turkeyen Masjid, was charged with three counts of sexual activity with a child by abusing a position of trust and police continued to investigate several similar reports.
It was alleged yesterday that between January 1, 2012 and January 23, 2012, at 'D' Field, Sophia, and during September 2011 at 285 'C' Field, South Sophia, Ali engaged in sexually activity with two boys under the age of 18.
The man's lawyer, in her application for bail, stated that he had no intention to absent himself from court and had been assisting the police with their investigations. She also stated that Ali's medical condition had worsened from the previous occasion he was remanded and that he was denied his medication whiles in prison. The case will be called again on April 17.
In February, appeared before Magistrate Moore and was not required to plead to charges that he sexually assaulted three boys under the age of 12 years, between December 5 and December 31, last year, at 'D' Field Sophia.
The particulars of the charges read that he engaged in sexual penetration of the boys and was in the position of trust and religion to the boys being a religious teacher and knew or reasonably could be expected to have known of the position of trust he held in relation to the boys.
The allegations against Ali came to light when the Child Care and Protection Agency (CC&PA) received an anonymous tip and officials there began an investigation that led them to boys, between the ages of 4 and 10. The police were informed of the situation and after the boys were medically examined, Ali, who was employed by the Central Islamic Organization of Guyana (CIOG), was arrested but released on station bail before being charged later. The CIOG had that the man, who was in its employ, had been sent on leave pending the outcome of the investigation.
Around the Web