President's College defeated Mae's Secondary School in the final of GT&T's 'Know your stuff' quiz.
A release from Guyenterprise said that the final, witnessed by Chief Education Officer Olato Sam and GT&T's CEO Yog Mahadeo, was the last in a 15-programme series aired by NCN over two months.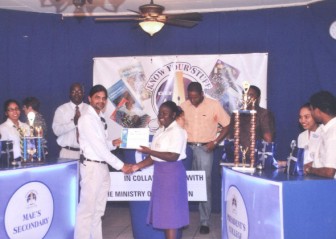 Quiz Mistress for the series, Dr Joyce Jonas, "compiled hundreds of questions from all the text books that the students have studied for this year's CSEC English B examination," Guyenterprise had said.
A release from Guyenterprise yesterday said that a final show to identify a top student, the 'Clash of Champions,' will be broadcast on Monday, at 7.30 pm on NCN. It will feature the six students who registered the most points in the first two rounds of the competition. They are: Shanice Dowding (Abram Zuil Secondary), Shanise Dawson (President's College), Leteisha Lynch (Queen's College), Joshua Amin (Mae's Secondary), Otis Chase (President's College) and Omefa Garraway (St Joseph's High).
Around the Web