A section of the railway line embankment at Foulis/ Paradise, on the East Coast of Demerara, caved in last night and residents accused authorities of failing to take action.
One resident said the problem was there since the road was built, but it was not properly addressed and that the authorities were warned that the cave-in was imminent.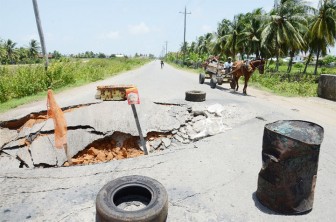 The section of road had been problematic in the past and government engineer Walter Willis told Stabroek News yesterday that the Works Ministry is aware of the problem. He added that remedial works had been undertaken on the section of the road way in the past.
However, during a visit to the area yesterday, residents told Stabroek News that the previous work that was done on the road was not of good quality.
When this newspaper visited the area, work had not begun on the bridge, but Ministry of Public Works personnel were in the area to assess the situation.
The incident has forced motorists to traverse the narrow section left at the side. However, other sections of the road in the immediate vicinity have also started to crumble.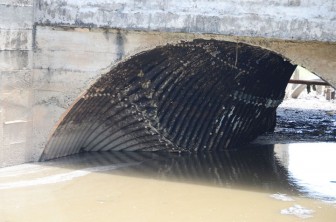 A resident, Desma Bitt, told this newspaper that she and another resident had placed an old refrigerator at the spot to warn motorists of the danger. She said the current problem was a result of a defect during the process of constructing the road. "When they were building the road, the boom hit the barrel (zinc support at the bottom of the bridge) causing it to dent," she said.
"They fix it but they din fix it properly, so it get a steep and when rain fall it sink," she added. She also pointed out, "I told them to break this whole bridge and sort it out 'cause we living here." Her advice was not heeded.
The authorities are expected to repair the road within the coming weeks. Willis told this newspaper, "We have secured a contractor to fix it as quickly as possible."
Around the Web