Fire-fighters this morning battled to contain a fire that destroyed a building housing six stores on Regent and Wellington Sts.
Fire chief Marlon Gentle told Stabroek News at the scene that a call was received around 0535 hours and eight fire trucks responded.  He said that heavy grill work on the building posed a challenge. The stores destroyed included Smart Choice, Manu Variety and Dilip Variety Store. The stores sold items including garments, electronics and cosmetics. Relatives of the owner of the building were on the scene. Reports are that the building is insured.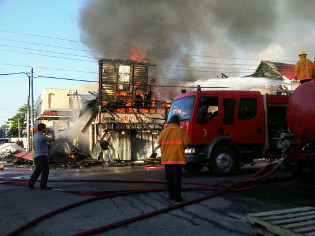 Store owners tried to salvage as much as they could.
Around the Web