Well-known poet, novelist and columnist Ian McDonald has launched his newest addition to literature, The Comfort of all Things, which is his fifth collection of poems. The book primarily focuses on the genuine beauty and awe of nature. The contemporary pieces concentrate on Essequibo's natural resources that impacted him, among other thoughts.
The launching ceremony was hosted on Friday at Moray House – former home of his now deceased friend and colleague David de Caires. The evening was dedicated to the love of poetry written by McDonald; the atmosphere was generally airy with the thoughts and remembrance of the contributions made by de Caires and the hard work and dedication that endured throughout the years. The audience included special invitees such as Dr Steve Surujbally, Chairman of the Guyana Elections Commission, award winning playwright Mosa Telford, some members of the Mendez family, Minister of Culture, Youth and Sport Dr Frank Anthony and his wife Dr Shanti Singh, Director of the AIDS Secretariat.
The evening began with a welcome from Vanda Radzik, the Chairwoman of Moray House Trust's Board of Directors. She described The Comfort of all Things as a momentous contribution to such a place that promotes poetry, culture and arts, adding that it was a pleasure that this book happened to be the very first published by the Trust.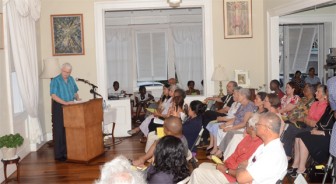 Dr David Dabydeen, long-time friend and affiliate of McDonald made references to his favourite poems by Mc Donald. He said too that The Hummingbird Tree and Mercy Ward are exceptional pieces of literature. "Ian had a compassion for the dying, humbleness – he gave them life," Dabydeen said.
He further described his friend as "a poet of our landscape, for art's sake – beauty in it, beauty in truth and truth in beauty." Dabydeen said Mc Donald is the type of writer who is unselfish; he always was concerned for other writers and was always sharing works.
Performing some of Mc Donald's poems were: Kojo McPherson – "A Gathering at the World's End"; Tivia Collins – "Any Poem"; Ron Robinson – "Mewl"; Paloma Mohamed – "Colour Poem" and Kencil Banwarie – "Homecoming for the young Brian Lara''.
Prior to the readings, McDonald thanked the organisers for all their contributions, especially Radzik.
"I am delighted to be a part of a Moray House Event," he said. "David is here in spirit for without him and the grace of his family Moray House would not have been here." He then dedicated his book to his wife – Mary, "she has always created the space and the sense of rightness in my life, I can never really thank her enough."
He then read from the book, a particular piece was based on writing as a teenager, which he described as a mysterious process. He quoted Martin Carter to link their thoughts, "I never finished a poem; only released it so others may have a look."
Mc Donald also read some of his past works, such as "Shadows will hide the Sun", which is based on the baptism of his son; "God's Work", which he said  started a flood of poems that soon became his award winning collection Mercy Ward and "Dream Island" from the collection Essequibo.
Meanwhile, plans were also announced about a re-launch of Kyk-Over-Al and a proposal to collect and archive the original papers of Martin Carter. Moray House Trust thanked the contributors and sponsors that financially assisted in publishing the book, copies of which were presented to the National Library (Georgetown and Linden), the National Archives, the University of Guyana Library, Caricom, the Guyana Book Foundation and Austin's Bookstore.
Making closing remarks, Doreen de Caires, widow of David de Caires thanked everyone for attending and expressed special gratitude to Radzik, "without whom none of this would've been possible."
Around the Web