At 76, New Jersey-based Guyanese Sirimatti Persaud is still eager to share her skills in sewing and is currently doing so at Bush Lot, West Coast Berbice, where she is conducting free classes.
The three-month session which started four weeks ago is open to persons in the community who wish to become empowered and independent.
About 15 women took advantage of the opportunity and already they are able to cut and sew any type of clothing under her guidance. She is also teaching them hand-embroidery and is looking forward to returning every year to assist.
Imparting her skills in sewing is nothing new to Persaud who, before migrating almost 30 years ago and whenever she returned on vacation would teach women.
Therefore, when her daughter, Valini Yacoob, the founder/president of the Guyanese Families Unite in Service & Education (GUYFUSE) organisation offered her an opportunity to return and share her skills, she gladly took it.
This newspaper was amazed at Persaud's patience as she guided the women step-by-step. She provides them with fabric to sew and plans to distribute the finished product to needy persons.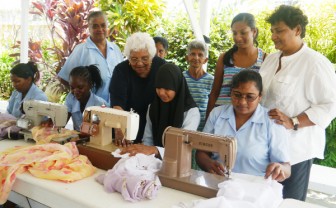 The women are also free to take along their own fabric. The best part is that they get to take home their outfits.
She is very keen with neatness and when she examines the work and it is not up to standard she would make them "rip it out and do it back until it is perfect."
She reminds them constantly, "You are learning but take your time and do it properly; it's yours when you're finished and you want it to look good…"
She told this newspaper that she was "so proud to come and teach the girls. They can sew for themselves and their children and save a lot of money."
Persaud, who learnt sewing on her own at the age of 14, emphasized that she was eager to teach the women because "I know of the struggles they may be going through."
Her interest in sewing developed after she started to play around with her mother's sewing machine and realized that she could "peddle" it perfectly.
She took patterns from her old dresses to cut and sew new ones, surprising her mother when she returned from the Abary Creek where she planted rice and tended to cows.
She told her mother who also did beautiful hand-embroidery that she also wanted to learn to do that and her mother gave her a hoop with "bag twine" to practice.
Her mother promised her that when she returned from the creek she would teach her to design patterns.
But she could not wait and went to an aunt who gave her a pattern to work on and was surprised that Persaud did a very neat job.
After that she started to create her own patterns mostly on cushions and towels and her mother could not believe her eyes when she saw them.
The woman said too that she "used to watch people doing things and learn from them." She recalled that a neighbour was a tailor and she would go over and watch keenly what he was doing.
One day she decided to ask him to cut a pair of pyjamas for her. She returned home and stitched it up in half hour and showed it to him and he was very pleased. He told her that he had been training boys for three months and "they couldn't do that."
She wants the skill to be kept alive so persons can have custom-made outfits and look different. She pointed out that women prefer to purchase ready-made clothing in the stores to be in the fashion and because of the high cost of sewing.
Some of the students told this newspaper that they always wanted to learn to sew but they were never confident that they would have been able to do it.
They said that the way Persaud teaches is "very simple" and that they are making the most of the opportunity while she is around.
They are confident that when she leaves they would be able to sew on their own. So far they have made skirts, tops, dresses, pillow cases and curtains.
Many of them had an idea though, because they were part of the Nanaimo Sewing School, organized by GUYFUSE and held at the same venue.
That school was conducted by Canada-based Guyanese Dr Andra Thakur who would cut the school pants, shirts and pyjamas for the women to sew. The uniforms were distributed to needy students at schools in Berbice.
Dr Thakur, a former lecturer in anthropology at a university in Thailand for over 35 years and a tailor, before migrating, held an all-day intensive session for a period of 14 weeks on weekdays. At the end of the course the students were each given an all-purpose machine to take home.
The students are required to take along their sewing machines to Persaud's class but Yacoob has also provided two for students who do not have.
GUYFUSE, a non-profit organization, aims at assisting in training and educating families to realize their potential, to build confidence and to become self-reliant and self sufficient.
It would also "establish and assist women and groups to get organized in income generating projects and assist in other forms of development."
Yacoob told this newspaper her mother was her biggest inspiration to form the organization. She has not followed in her mother's footstep to be a professional seamstress, unlike her sister in the US but she certainly has a desire to help others.
She said her father worked as a driver and her mother was not the type of person to be idle so she planted a big kitchen garden and sold the produce.
After she realized that her neighbours were not making use of the space in their yards she asked permission to plant there also.
On weekdays she walked to different villages and sold the produce and on Saturdays she sold at the Mahaicony market.
Around the Web