The Canadian Executive Services Organisation (CESO) recently collaborated with the Guyana Art and Craft Producers Association (GACPA) on a three-week ceramics workshop intended to encourage small businesses.
The workshop was administered by Canadian volunteer Ronda Green, who taught participants the art of pottery with an emphasis on utilising materials available in Guyana. She said that pottery would require an investment, in the long run it would prove to be very helpful as participants would be able to earn an income from their new found skills.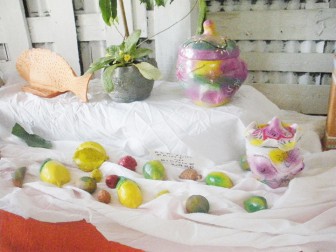 Participants represented members of the association as well as interested persons from across the country. One participant, Iris Calistro, an Arawak from Region 2, said that she intends to go back and share her new skills with her village. She said while villagers produce ceramics, she learnt new ways of improving the quality of work they produce.
The workshop is one of several by GACPA in its mission to create small businesses, from which development can occur and ensure that there are enough producers to meet market demands.
The closing ceremony for the workshop was held on Friday at the Transport and Harbours Workshop, at Water Street, Kingston, where there was a display of ceramic pieces made by the participants. There was also a demonstration of how the clay oven is used to make the clay and a simple ceremony of appreciation to the donors and participants.
At the ceremony, CESO country representative Dr Leslie Chin said that the volunteer organisation was ready to help GACPA.
Chin noted that CESO plays a major role in numerous development programmes, with its mission to "promote and assist the economic and social growth and well being of the peoples of the world."
He emphasised the importance of networking, financing, marketing and good governance for progress and said CESO has provided the foundation for development and would be there for the long haul.
In addition to CESO, IPED and the IDB are also working with GACPA and have assisted in getting its website up, making the Association more accessible. Gary Thompson, business consultant for GACPA, said that the association has support in the Millennium Development Group.
Also, the government has promised $10 million to GACPA to help in the rehabilitation of the building which it now occupies. GACPA is hoping that the contribution is matched by donors to keep its activities going.
The Association is now looking to produce a plan outlining its vision, which includes housing shops for producers from all ten regions in its newly-acquired building.
Around the Web