To effectively fight the scourge of domestic violence it must be treated and given the same attention HIV/AIDS has gotten, says Justice Roxanne George who has also called for a cost to be placed on this rising epidemic as has been done with the virus.
"We have to treat domestic violence the same (way) we treat HIV/AIDS. We have not done that. We have focused on HIV/AIDS in all its facets with funding internationally, nationally, regionally…" Justice George said. She suggested that there be some "piggy backing" on the HIV initiatives as there is a correlation between domestic violence and the transmission of the virus. The religious community needs to join the fight against this scourge, the judge added.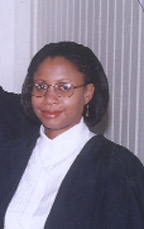 Justice George recalled that recently Roman Catholic Bishop Francis Alleyne publicly denounced domestic violence and called for more religious leaders to do so and send a strong message to perpetrators but also to let victims or potential victims know that they have support.
Justice George made the comments while addressing a wide cross-section of mainly women who were part of a domestic violence forum organized by the Guyana Association of Women Lawyers under the theme 'Women Supporting Justice and Equality.' It was held on Saturday at Red House.
The judge, who in recent times has been speaking out on domestic violence and child rights among other issues, expressed disappointment that since 1988, the University of Guyana has not done any major academic study on domestic violence. Further, she said that a legal component needs to be added to the university's social work programme. "Our social workers are coming out of the University of Guyana without any clue about the Domestic Violence Act. We can talk about the police but our social workers need training in the Act [and] now they have the Child Protection Act, they have to learn…there is a (vast amount) of legislation that they have to learn and understand…" she said.
Further, Justice George said that the provision under Section 44 of the Domestic Violence Act was included with the hope that the person who holds the position of Director of Human Services at the Ministry of Human Services and Social Security could, among other things, study, investigate and publish reports on the domestic violence problem in Guyana, its manifestations and scope, the consequences and the options for confronting and eradicating it in conjunction with the police and other agencies."Our effort in that regard has absolutely failed…at the ministry level that mechanism has failed," Justice George said.
'Gender sensitive'
And sadly, Justice George said that families continue to support the perpetration of domestic violence by the very support they give to the perpetrators. She called for more training to be done with front line staff including magistrates. The judge recalled that recently there was training for the establishment of the Family Court and said that it is "all well and good to put the Family Court in place" but unless there is gender sensitive staff and officers then it will go to naught.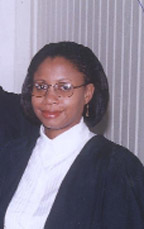 "The Family Court can be held under a tree, but we have to tackle the people…" she stressed. And there is also a need for lawyers to be trained as well because of their attitudes. Justice George pointed out that there are a number of lawyers including females who would answer a petition for divorce and put down a litany of domestic violence suffered by the woman "and when they finish [would] say we would like (to) reconcile."
"I would say not in my court…because when you die tomorrow morning your family would say 'that judge'. And I say to lawyers why are you writing this litany of domestic violence in the answer and putting at the end of it that 'I love my husband so dearly and I want to reconcile," the judge said.
Some of the participants at the forum called for compensation but Justice George said under the Act there is no provision for compensation for victims and she acknowledged that should victims sue, they will have to wait between one and ten years for a decision.
Justice George also called for better mechanisms to be put in place to take applications by children in the context of the protection of children.
And there is need for the Evidence Act to be amended, Justice George said, since it does not permit doctors' medical reports to be tendered as evidence so doctors are forced to go and testify in court. She noted that the Domestic Violence Act has provision for affidavits but pointed out that the doctors have to prepare one of these and exhibit the medical. However, the judge said that the medical needs to be changed because anyone who sees a police medical knows that "it is a total waste and it tells you nothing."
The other issue, the judge said, is the fact that medical reports by medics, who are the only medical personnel found in many interior locations, are not admissible in any court."There is nothing in our laws that allow a medic to come and testify…so we have to amend to allow our medics personnel to be able to testify in our courts…" she said.
'Adequate'
Meanwhile, Deputy Director of Public Prosecutions, Joann Barlow, who made a presentation on the scope of the Domestic Violence Act, said that she does not agree with the calls for more legislation to fight domestic violence since there are adequate provisions under the existing act for victims."I do not believe that the Act has been fully utilized," Barlow commented after going through some of the 48 sections of the legislation.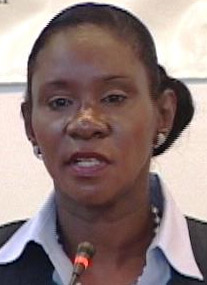 However, activist Karen De Souza of Red Thread countered that it is not the Act that is the problem but there is need for the police, courts and social workers to all come together if the Act is to be effective."I have not encountered many officers who know the Act," De Souza said adding that she has serious problems with magistrates who do not seem to believe that the Act is part of the laws of Guyana. "The law is good, it could work, but how do we get our professionals to work under the law?" De Souza questioned while adding some lawyers also appear inhumane when dealing with victims.
In response Barlow pointed out that sensitization is the only thing that can work. She commented that "maybe if the system works a little faster then things would be better."
Minister of Human Services & Social Security Jennifer Webster in her comments acknowledged that there is a problem with the implementation of the Act while saying that the problem with the Guyana Police Force is that many times, ranks that may have been trained are rotated and removed to other areas.
She said there is now a need for a dedicated task force to deal with domestic violence and that reports should not be taken by just any rank most of whom would have connections with members of the community.
Justice George said while she likes the idea there is need for one in every division and in a large division like E&F there may be need for more than one.
Meanwhile, the minister called for regulations to govern medical practitioners mandating them to report cases of suspected domestic violence while citing one case in which a doctor may have been in collusion with an alleged perpetrator to cover up his crime.
Karen Gomes of Help & Shelter said that among the problems she finds are that lawyers appear to be inhumane and insensitive. She also asked what is being done about the overburdened court system and the high turnover of magistrates.
Meanwhile, former magistrate Omeyana Hamilton said that Guyana has a perpetual "thing of victimizing the victim" and conceded that many times lawyers themselves do not know the Domestic Violence Act. She also said that there are major problems with the police but pointed out that there are also issues with their work load.
And De Souza said there is a culture of "conciliation" with the victims always being encouraged to make up with her perpetrator while there is a major problem in that professionals deal with the issue in a very insensitive manner. De Souza said the real problem is women getting access to the justice system as "it is not serving the people who really need the justice." The court system, she said, can frustrate the most willing and questioned whether there is a code of conduct for lawyers, judges and magistrates when dealing with domestic violence cases.
And Magistrate Judy Latchman said while she respects the work done by women's organizations and while she does not support domestic violence, it must be remembered that everyone is deemed innocent until proven guilty. She said that if a woman comes before a magistrate with evidence of injuries that magistrate can act based on the evidence presented and be guided by the law.
Magistrate Leslie Sobers – who gave a talk on the judicial perspective on victims' access to justice – while admitting that there are difficulties and that domestic violence is a problem, pointed out that sometimes the Act is used as a sword rather than a shield.
Deputy Chief of Mission at the United States Embassy, Thomas Pierce also made remarks at the forum. Saturday's forum was attended by civil society organizations, including religious organizations, members of the judiciary, government agencies, staff of the US Embassy and the press.
Vice-President of the association Simone Morris-Ramlall – whose brainchild the forum was- said that the association will now compile all of the ideas and suggestions presented by the women and submit a final document to Minister Webster and Acting Chancellor of the Judiciary Carl Singh. She said that they would be seeking follow-up sessions with both offices in an attempt to see how much of what was suggested could become a reality while stating that a training programme for magistrates should not be difficult to organize.
Around the Web