Aubrey Stewart is known for his kite making skills; his kites are quite simple but guaranteed to fly.
Stewart who lives in Kitty has from childhood had a love for kite making. He said he could remember when Easter time came around he would sit for hours making and pasting his kite.
Today he is a barber by profession but the love for kite making still plays an important role in his life as it brings in an annual income come Easter time.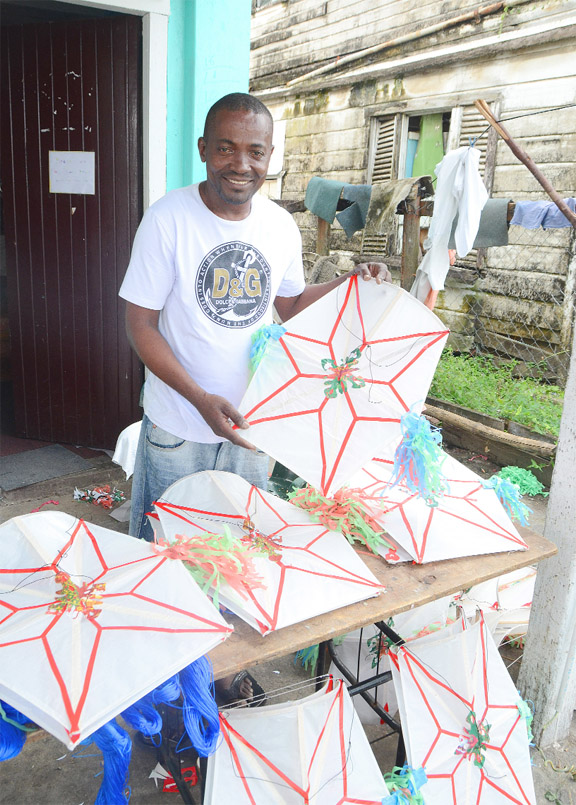 He said that though he has been making kites all of his life, 35 years ago he started to sell his kites to earn money which proved very lucrative. "Time is very limited," he said as he spends most of his time in his barber shop but from January he is all about his kites. He only makes standard kites—one and two feet kites—which he says sells more.
When asked why he doesn't vary them he simply replied, "the time isn't there".  He said that he supplies kites to the Office of the President and his neighbourhood and on average he makes 600 kites a year.
What's good, he said, is that he has his market so the high influx of Chinese kites does not harm his kite business. His kites are better quality so persons prefer to pay $600 for one of his kites than get one cheaper elsewhere.
He has four persons who help him make these kites and his son he said often helps out.
Stewart warned that not all persons can make kites since there is an art in doing so. Any miscalculation of measurement can cause you to lose "flight power". The nose and nose loop have to be just high enough and peaked in the centre; likewise the loop needs to be symmetrical, the tail cannot be too heavy or too long and the bull or zoomers can't be too big.
Stewart said the cost of material is on the rise thus his price has to reflect it. However, he knows how to negotiate so that everyone who goes to him, leaves with a kite.
When Stabroek News caught up with Stewart most of his kites had already been sent off to their various destinations.
He said his family is looking forward to the holiday and they will be flying some of the very kites he makes.
Around the Web