A 28-year-old wash bay operator last evening succumbed to his injuries after slamming into a median in the vicinity of Rahaman's Park, Houston, East Bank Demerara.
According to reports, Reuel Roberts of Lot 6 La-Heurse Adventure, Canal Number One, West Bank Demerara was driving his father's car PKK 3788 at a fast rate heading to the city. While in the vicinity of Rahaman's Park at around 8.50 pm his car suffered a blowout causing him to lose control of the vehicle, he swerved several times and spun before slamming into a median, splitting the trunk of the car in two.
Roberts apparently sustained a broken neck and fractured skull and was assisted by passersby who transported him to the Georgetown Public Hospital, where he was pronounced dead on arrival. Some persons present at the scene said the backseat of the car had Mackeson stout bottles. They also referred to the accident as a "freak accident" because it was back of the car that was damaged and because when they removed him from the vehicle it appeared that he had been a passenger in the backseat of the car.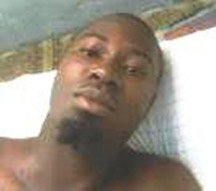 Minibus driver Wayne (only name given) said he was driving his minibus BKK 5413 heading to South with a busload of passengers and traffic was backed up in the area so he decided to drive up the one way through Thirst Park leading to Rahaman's Park.
"I went driving and then I see this man car starting to swerve then he spin couple times and lashed into the lamp post then hit at the side of me bus," he said.
He added that he stopped his bus, which caused another car to slam into the bus. They then went to assist Roberts who was pinned in the backseat of his car.
According to his mother Cheryl Roberts she received a call from him earlier informing her that he will be picking her up from work. She said she walked to Ramp Road and was waiting for him there when she received a call informing her he had been in an accident.
As the news of the accident spread, many anxious relatives converged at the hospital with hope in their hearts that everything would be okay, but a few minutes after they arrived, the doctor broke the news of his death to them.
Chaos broke out as family members wailed and cried and some even fainted.
Roberts was the eldest of four brothers and would have celebrated his 29th birthday on Friday. He lived with his aunt, Darren Douglas, and leaves to mourn his mother and many relatives.
The body is at the hospital's mortuary awaiting a post-mortem examination.
Around the Web