Relatives of the teen who died in childbirth while  in the care of the Linden Hospital Complex (LHC) have expressed shock at receiving information that the Chief Executive Officer (CEO) Dr. Farouk Riyasat was not informed of the patient's condition prior to her being  transferred to the Georgetown Public Hospital.
The teen's sister-in-law Suzette Gordon said that during a visit to the institution they were told by persons close the CEO that he was not aware of the teen's admission. Dr. Riyasat who is functioning in a  management capacity is still integrally involved in medical practice, including gynaecology.
They said that the teen was attended to by a Chinese doctor and a local doctor but the local doctor was left alone after the Chinese doctor went off on special leave.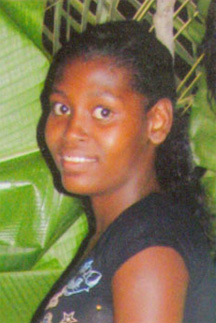 "Is till when she (the female local doctor (name given) realize that she back against deh wall that they send for Dr. Riyasat but it was too late, he couldn't do nothing."
According to Gordon they were told and are convinced that the teen died at the LHC. "The nurse told us and we believe that she did die or was very low when deh put she in deh ambulance and dah is why deh refuse to stop when we were trying to stop them," said Gordon.
They said that their suspicions got stronger after her clinic card was found in her bag and not on her chart. "When we went back to the hospital they were surprise and asked how come we gat she clinic card when it was suppose to be in her chart."
The relatives said that they spent two days trying to speak with the CEO at the hospital but to no avail. Up to press time they were at his private practice office in an  attempt to speak with him.
The relatives were also angered when they were denied the opportunity to witness the post-mortem. They said contrary to other reports, they did make attempts to witness the procedure but were told that only one close relative was allowed in.
"We ask yuh know and they said only the mother or one close relative was allowed in to identify the body." Gordon said the teen's mother had to leave the room after she identified the body. They were also able to secure a photograph of the nine-month old stillborn beside the body of the mother.
Reflecting on the days leading up the surprising death relatives said that they were told by a nurse whose name they could not recall at the time that the Wednesday before, she had  counseling  sessions for patients suffering from sickle cell anaemia and  had a bedside conversation with the teen.
"The nurse said that at that time her blood count was above 9 and that was good considering her condition. So she was shock to hear that they deh giving her blood."
Around the Web