Lawyers for embattled Police Commissioner Henry Greene last evening dispelled reports  that the top cop has handed in his resignation as pressure mounted on the government to act over what is widely accepted as his abuse of public office.
Contacted last evening, one of the lawyers said that reports that the top cop has resigned are untrue. Asked if Greene has plans to tender his resignation in the near future, the attorney responded with a no.
Last month at a press briefing Head of the Presidential Secretariat Dr. Roger Luncheon had said that the government was concerned about Greene's admission that he had what he described as consensual sex with his accuser. He said that Greene's conduct was an issue that would have been discussed at cabinet and could attract disciplinary action.
Cabinet yesterday met for the first time since the High Court case concluded last Thursday in Greene's favour. It is unclear if the issue was discussed at this forum but this newspaper was told that Dr. Luncheon will be holding a press briefing today during which he is expected to address the issue.
Senior Police Officers as well as government officials were yesterday tightlipped on whether Greene had decided to willingly step down or whether the government would remove him.  Reports reaching this newspaper are that while Greene is reticent about quitting, he is being urged to take that course of action which in the circumstances is the honourable thing to do.
One senior rank said last evening that "Greene should do the honourable thing and go". It was pointed out that this is a course of action that should have been taken since the woman's allegation became public or even after he admitted having sex with the woman in his court documents.
Greene has been on leave since the start of the year to facilitate an investigation and Dr. Luncheon in responding to questions from the media had said that he is still receiving his benefits as it was he who willingly proceeded on leave.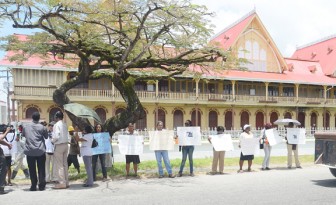 The case ended almost a week ago before Chief Justice Ian Chang and Assistant Commissioner Leroy Brumell is still the acting police commissioner.
Former Human Services Minister Priya Manickchand was the first government official to call for Greene to go because of his improper behaviour in a case that has put him on the brink of a rape charge.
Manickchand who is an attorney-at-law and currently holds the portfolio of Education Minister also expressed disquiet at the ruling of Chief Justice Chang which quashes the rape advice given by the Director of Public Prosecutions and bars the police from using that advice to lay a charge.
She told this newspaper during an interview on Tuesday that "from his own admission he acted most improperly and in this instance he was discovered so he should leave willingly. I am not sure that he can do very much hereafter to enjoy the confidence of people generally and women in particular and his actions may have been a bad example for his juniors", homing in on the fact that Greene should not even wait for anyone to ask him to step down.
She had also expressed worry at the implications Justice Chang's ruling will have on similar matters in the future.
The accuser; a 34-year-old mother of two came forward with the allegation last December. In the presence of her attorney Nigel Hughes, she had related how she was forced into a city hotel where the act was allegedly committed on the night of November 22. She had previously gone to Greene's office for assistance in a criminal matter in which she was accused of extortion.
Around the Web