Mayor of Georgetown Hamilton  Green said yesterday he is worried about the purchase of a laptop from a non-existent dealership store which houses a 'cake shop' in its bottom flat.
The city mayor also  refuted claims by acting Chairman of the Finance Committee, Councillor Junior Garret that he has been dragging his feet when dealing with complaints.
At a press conference in his office, Green said that Garret, who performs the duties of acting Chairman of the Finance Committee, has always been extremely particular to the point of being fastidious about  vouchers being sent to him and he finds it unusual that a voucher carrying the name of a little known entity should escape his scrutiny so easily.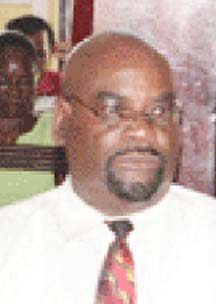 Garret could not be reached by Stabroek News for comment yesterday.
Green said, "In fact I have been informed that vouchers relating to credible and known business entities have been held up by him for enquiry."
Green added that after being told that the voucher was taken to Garret by the Information Technology (IT) Department he invited the Head of the Department Waynewright Orderson to see him and the officer was unaware of such a voucher.
"The other attack on the mayor, why I don't know, is that complaints have been made to me and I have been dragging my feet on them. I would like the gentleman (Garret) to give specifics about this, because whatever they may have said about me I have kept my hands clean of this nonsense and over the years I have had commissions and appointments and as you know two senior officers were sent off the job."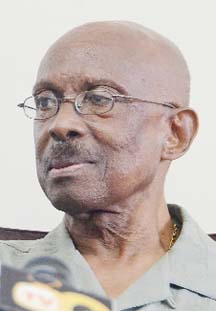 Green said further that it is unfortunate that he is dealing with a matter of this nature, since there are more important issues affecting the MCC, which leaves him to respond to statements apparently made by Councillor Garret that appeared in the Kaieteur News.
He said that he finds it very worrisome that a piece of equipment was purchased from a non-existent firm, which is a private residence that houses a 'cake shop' at the bottom flat and when the contact number on the invoice is dialed the woman     answering is unaware that she sells computers at her house.
He said that the comment of acquiring $14M of IT equipment free is either a figment of Garret's imagination or he is in a state of someone who is not on level ground.
The mayor  said that Garret is aware that any purchase of equipment to do with the IT Department should, before it is signed by the Chairman of the Finance Committee, be given  the 'green light' by that department and that is a standing order.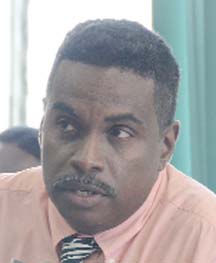 "In this instance from the documents no such approval or recommendation was made by the IT department  yet Mr. Garret signed it and gave it his blessings."
2004 vintage
Green added that he had noted that the laptop is of 2004 vintage and he was recently in the United States and bought a 2011 version laptop with similar features for which he paid less that US$400 retail, so he finds it troubling that a vintage laptop was acquired to  the tune of US$600 ($120,000).
Orderson said no member of the IT Division has ever taken any voucher, including the one in question for the purchase of a laptop computer, to Garret for his  signature.
Orderson said, "I have never approached Mr. Garret with any documents, let alone any voucher and the procurement of items is a function of the Treasurer's Department and they are responsible for taking vouchers to him (Garret) and that certainly is not factual what Mr. Garret is saying and I want to reiterate that."
He added that his designation is Systems Analyst and Head of the IT Division, and he is not an IT Officer, but it is clear that Councillor Garret's comments point to him as he is the only officer within the Georgetown Municipality responsible for Information Technology.
Orderson also pointed out that, "Firstly, the voucher being referred to as the Mayor pointed to earlier only came to my attention recently and it does not subscribe to the procedures that would have been established, it does not meet the tender board procedures of having three quotations which we always ask for."
This, he said, would not have been approved in his department because it had only one quotation from the fictitious  company it was acquired from.
"Secondly all IT-related vouchers should be sent to our department to put our fiats and to ensure the suitability of the equipment and its specification, this voucher (in question) does not have any comments from the IT Division and in fact we only knew of it when the Treasurer's Department asked us to have this and another computer connected to the Local Area Network," he explained.
The IT officer further stated that they had to obtain the specs of the computer because it was not on their inventory, and it was at that stage the voucher was provided to them and that was when he became aware and voiced his concerns.
Referring to City Council specifications he said that they have standardized purchases of Information Technology equipment of the Hewlett-Packard brand and the laptop is a Dell home edition computer which is eight years old which was not recommended or approved by his Division.
They were unable to connect the  other computer to the network because when he asked for the voucher for that one he was advised by the Treasurer's Department that the voucher  could not be found.
He said that he is unaware of any software that is available to City Hall free of cost, and it is Garret who in his budget presentation for 2012 reported that he proposed $18M for software to be utilized for just rates and taxes function, yet a sum of $14M is being challenged for a comprehensive Integrated Financial Administered System.
"We are procuring that software not only for taxes but for the entire financial system," Orderson contended.
He added that currently the municipality has in its possession an MCT Client Database Management System that merely holds data and has no processing capability.
Around the Web