A 43-year-old labourer of Edinburgh Housing Scheme, East Bank Berbice was yesterday stabbed to death around 9:30 am.
Leord 'Junior' Edwards who lived alone in an abandoned house that belonged to his grandfather sustained multiple wounds about his body.
A neighbour, Tony, told reporters that he was at home when he noticed Edwards entering his yard. Edwards managed to tell him that someone had stabbed him before collapsing to the ground, bleeding profusely.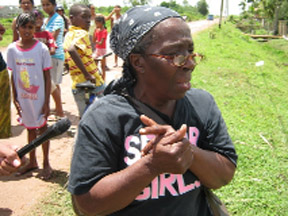 Reports are that after he was stabbed he ran over to Tony's yard located in front of his and collapsed and died.
Edwards who was living in the area for two years worked part-time at a bakery and was said to be a drug user.
An aunt, Hermaine Sinclair, 66 who is also employed at the bakery said she was at work when she received a call that her nephew was murdered.
She said she hurried to the scene and saw him lying in the yard in a pool of blood.
Around the Web