The announcement by Minister of Finance Dr Ashni Singh at the reading of the national budget last week that the electricity tariff in Linden would be increased resulted in street protests by residents yesterday morning.
The group of approximately sixty women and men,  led by an APNU Parliamentarian, Regional Democratic Council (RDC)  and Interim Management Committee (IMC) councillors, took to the streets of Linden chanting "PPP want kill Linden", "No electricity raise for Linden", "Deh vex cause we aint vote fuh PPP", "No GPL fuh Linden",  among other remarks.
They carried placards reading "No subsidy – Dark future for Linden", "PPP mean fuh punish we", among  others.
The group assembled on Burnham Drive in front of the Linden Utilities Coop Society Limited (LUSCSL) which is responsible  for the distribution of electricity on the Wismar shore.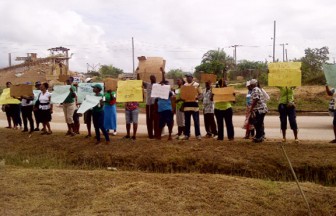 They then  marched along Burnham Drive and crossed over the Wismar/Mackenzie Bridge and stopped briefly at the Linden Hospital Complex (LHC) before taking their demonstration outside the Linden Electricity Company Inc. (LECI) which is responsible for electricity at Mackenzie.
The LECI  purchases electricity from BOSAI and sells it to the LUSCSL. LECI falls under the management of the Linmine Secretariat which is  under the government.
At Mackenzie as the demonstration moved along Republic Avenue the support got bigger with residents joining  in solidarity. Several persons along the way were heard making remarks such as "dis is serious times we gat fuh stand up as one now or we dead", "we could hardly mek it to pay wah we got now much less if deh increase", "deh try it last year and now deh come again we ain't tekin it suh".
The demonstrators circled the central Mackenzie business area  twice before stopping in  front of the RDC where councillors were preparing for a statutory meeting. However, before the street protest ended, Regional Chairman Kuice Sharma Solomon made it known that he intended to suspend the standing order to address the issue of the removal of the subsidy as proposed in the 2012 budget.
Speaking with Stabroek News, APNU member of parliament Vanessa Kissoon said that the demonstration was initiated  by women of the Linden community.
"Today we protesting the entire budget, especially the removal of the subsidy of electricity, the insult to pensioners, the shabby consideration for taxpayers and those on public assistance."
She said that their action yesterday morning is to garner the support of the wider community  prior to a bigger and more intense protest that is  planned for tomorrow.
The protesters carried several placards which spoke to the issues of unemployment, the poor state of the Linden Hospital Complex and water.
The presence of police officers was noted throughout the route but was more concentrated  at the RDC premises.
Around the Web