A simple heartfelt letter from a mother to her son who was ill hundreds of miles away seems to have sparked renewed interest in colonial life here in the 18th century.  The discovery of a letter written over 200 years ago by the wife of then Director-General of the Dutch colonies of Essequibo and Demerara to their 12-year-old son back home in Holland has led a television station in Netherlands to revisit this past era.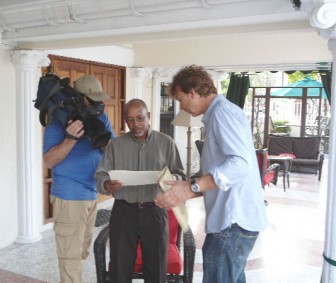 In 1781, Laurentia Catharina Trotz, the wife of then Director-General of Essequibo George Hendrick Trotz, wrote a letter to the couple's malaria-stricken son Adriaan in Holland. The letter never reached its destination as the ship transporting the letter was attacked and destroyed by the British. A few years ago this letter was among a slew found in the British archives, which have subsequently been translated.
Last month, a two-man team from the KRO Television station in Hilversum, Netherlands travelled to Guyana to present a copy of the letter to Raymond Trotz, a descendant of George Hendrik Trotz. The team also filmed an interview with Raymond Trotz (a fifth generation descendant) which will be part of a new television series, 'Brieven Boven Water' (Sailing Letters) that will be aired in the Netherlands.
Derk Bolt, a reporter with the KRO Television station, told Stabroek News that over the past 15 years some 40,000 letters have been located in the British archives. However, translating them has taken some time particularly because of the 17th and 18th century Dutch language used.   Recently, however, 200 university students from the Netherlands have been travelling to the United Kingdom to translate the letters, which has speeded up the process.
The television station which Bolt works for began to look at some of the letters for the purposes of a television series, where they would try to find descendants of some of the letter writers and of the persons to whom the letters were written. "It is a historical programme but it isn't really about learning history… but.. you see the country, the place, where the people live and [will be able] to imagine the history, climate…" Bolt said about the show.
Speaking about the particular letter written by Laurentia Trotz, Bolt said that the letter was of particular interest to the producers because of the importance of the individual involved. "It was very different from other letters," Bolt said. According to him, they have found a few other letters written from Essequibo but these are mainly from individuals to their parents or from workers to their spouses.  This letter, however, was written from a well-off family in the New World. The father of George Hendrick Trotz was a professor at the University of Utrecht in the Netherlands. George Hendrick Trotz had also obtained a doctorate in Law before he came to the New World.
It was felt that with some digging the letter could be the basis for a great human interest story.  One of the driving factors behind seeking to further explore these letters was because descendants of Trotz are still alive in both Guyana and the Netherlands. After making contact with some local agents, the KRO personnel were able to locate Raymond Trotz. At the time when the team from the television station visited Guyana, they had not yet made contact with the descendents of Trotz in the Netherlands.   The intention is to bring the descendants from the two distant nations together.
While in Guyana, the team visited parts of Essequibo in an attempt to find the grave of George Hendrick Trotz but was not successful.  George Hendrick Trotz had succeeded Laurens Storm van 's Gravesande as Director-General of Essequibo and Demerara in 1772. He served in this capacity until 1781 when the Dutch lost control of the colony.
Raymond Trotz, a former academic turned businessman, was delighted to receive the letter. He and the rest of his family are keen on family history and Trotz said he would be sharing the letters with his relatives. The letter, Trotz said, offers an insight into the human side of his ancestors.  George Hendrick Trotz, he said, from research undertaken appeared to be a powerful and wealthy individual who had quite a temper, so it was nice to see evidence of another side of him.  The younger Trotz said that he grew up listening to his father Lionel Barrington Trotz, an old schoolmaster, regularly recounting stories about their ancestors.
He told Stabroek News that he subsequently learnt more about his family after the Trotz in Holland hired someone to do research on their family history. This information was then passed on to the members of the Trotz family still residing in Guyana.
The television series was expected to commence this month with six initial shows aired on Thursday evenings.
Sir A.C. Trotz
In
Middelburg
By  't Schip
Captn Stäkman
With God
over sea
Dearest and Most beloved Son,
I've received your writing of 14 October 1780 very well, I read with much pain that you are still suffering from malaria. My dear child, I so hope that God will grant you a quick recovery.  I, my beloved son, have already cried so many tears because of you, because you are so far away, and I can't express my motherly duties to you.
My dear child, do try to keep a good heart, it will not be long before father and mother will be with you.
It made me very happy to read in your last letter that your sweet Sister arrived safely and is now with you. I can't express my gratitude that the Lord made her journey a safe one.
Your father, mother and three brothers are all very well. We congratulate you in this new year, and we hope God will save you from harm for many more prosperous years to come, and your parents hope that you will take care and you will be well-behaved and obedient to those who now take care of you.
Hereby I send you six pairs of stockings, eight hats, and with Captain De Vos mother will send along some cocoa and some marmelade.  Papa will send you some sugar and coffee.
Furthermore I don't know what else to tell you, than to greet your teachers, the family, the Sprengers, the aunt, cousins and the Negte Reijgers.
Your three brothers send their regards as well.
In my heart, I embrace you, your loving mother,  Farewell my beloved son, farewell my sweet child.
Honourable and much loved son,
Your loving mother
Laurentia Catharina Trotz-born Spoors
You are now twelve years old.
Essequibo 26 January 1781.
Around the Web