This is the fourteenth in our series on new parliamentarians
As a new member of the National Assembly Eula Marcello sees Parliament as a learning experience but one which she nevertheless plans to use as a platform to advocate the further development of the hinterland human resources.
"Many times the youths leave school and they would go and work in mining or farming, but they have qualifications to further their studies but there is no avenue for them to do it," the new Alliance For Change MP told Sunday Stabroek.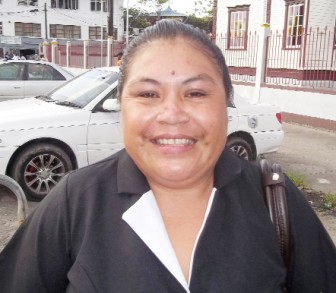 Still new to politics, the 31-year-old mother of four said that she is eager to learn the ropes and she wants to represent all Guyanese who need a voice.
"I see Parliament as a learning institution, by listening to people who have been there for years," she said.
A senior assistant pharmacist at the Mahdia District Hospital, Marcello said she was a secondary school Social Studies teacher for seven years and during that period she had done extensive research on local politics and the constitution and was always fascinated.
A member of the Patamona tribe, Marcello originates from Paramakatoi. Being a native Patamona speaker was a plus for her when she campaigned for the AFC in the run-up to the elections, as many of the older folks cannot speak English very well.
Recounting how she became involved in politics and the AFC, Marcello said she was introduced by two friends of hers – Clyde Edwards and Mohamed Gafoor – who would visit her home and talk with her and also gave her the party's manifesto to read.
"After reading the manifesto and listening to them I got interested and I felt this is a good channel for me to be part of the challenge," she said.
Once she was convinced that the AFC was the party to throw her support behind, Marcello said that even though she had a daily job, she walked around and distributed the party's material even though she admitted that her two friends were the ones "who walk all the backdams."
"Many of the older Amerindians don't understand English well so I walked around and spoke to them,"
she said.
Asked about her opinion on politics the new parliamentarian said she is "getting to like it" and revealed that since she decided to openly support a political party there has been no negative feedback.
"A lot of people know when I became a politician and in general they were very much supportive, even my dad who is a strong supporter of [the] PPP," she said.
Marcello said she believes in the AFC's call for shared governance, and she likes the party for advocating representation for all Guyanese, regardless of their race, colour, creed and class.
When she was told that she would be a parliamentarian said she was somewhat hesitant because she was new to politics.
"I asked how could that be, I don't know much about politics but I was encouraged to do it and was told that I would be. Many people believed in me and told me that I had the capability and that I would make it," she said.
But even though she received the support she still had many questions even as she considered her job, since she was on contract and she was not sure if being a parliamentarian would have placed that in jeopardy. But once this and some other issues were cleared up, the woman said she was ready for the challenge and accepted the offer.
Her husband has always been at her side and he "told me to go ahead, I could make a difference, but he told me to watch out."
"Right now I am prepared to set aside and work and try to represent people regardless of race, for the development for all. I am prepared…" she said.
And since she became a parliamentarian many persons have ap-proached her with issues of concern including child abuse and domestic violence, child labour, lack of water and electricity, the poor conditions of roads and the generally poor infrastructure works.
She always lends an ear and does what she can to help those in need, and to be visible in the various communities.
She is grooving into politics, Marcello said, and she weighed in on the recent budget which she said focused more on big projects but had nothing for the small man. She recalled that the AFC had campaigned for the reduction of VAT and for an increase in the old pension. While there has been an increase in the pension she said it is too meagre and consumers are still forced to pay 16% VAT.
"I was not happy with the budget but I couldn't do nothing because we are not in power as yet," she said.
Around the Web