While one stallholder in the Stabroek Market Bazaar lost her goods as a consequence of a fire in the early hours of Good Friday, others returned yesterday to find their stalls flooded following a high tide.
According to Persaud (only name given) he arrived yesterday morning to find his stall entirely flooded; he was unable to assess the damage.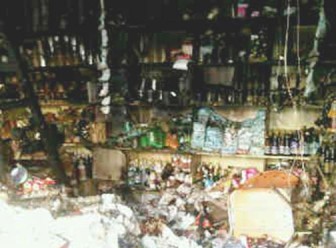 "This is not the first time this happen," he said; "every time rain fall lil hard we ah get flood in the market."
By the time this newspaper arrived, most stalls had already been cleaned and business was under way, although the market was still wet and dirty. Stallholders said that they were fed up with the constant flooding and the lackadaisical approach adopted by the market authorities to their concerns.
The Good Friday fire which destroyed millions of dollars worth of groceries is believed to have been caused by a faulty power pole.
Around 1.30 am, phone card vendors in front of the market began to raise the alarm when they saw smoke. One vendor told this newspaper that he noticed that an electrical wire on the GPL post had ignited.
It took about twenty minutes to extinguish the flames and gain access to the area.
The fire caused a transformer located just above the Chan and Brian's Grocery to explode.
According to owner of the store, Chandroutie Dass known as Chan, the explosion at the transformer caused a meter located in her stall to spark and it later started a fire.
The woman said that during the last few months she and other stallholders had made several reports to the power company about a faulty pole but to no avail.
In light of the damage to her stall, the businesswoman is seeking some sort of compensation from GPL.
When Stabroek News arrived on the scene on Good Friday, fire-fighters were working to contain the blaze.
GPL took some time to disconnect power to the area resulting in a second explosion on the electricity pole, causing further alarm among the vendors.
Around the Web