Motorists heading up the East Coast of Demerara were yesterday afternoon forced to drive through water for long stretches of the Rupert Craig Highway between Sheriff Street and the Ocean View Hotel.
The accumulation of water on the northern carriageway was a result of a spring tide that saw waves overtopping the seawall.
When Stabroek News visited the area just after 5 pm, traffic had slowed to a crawl as drivers cautiously manoeuvered their vehicles through the water.
The overtopping attracted the attention of some ministers of government including Education Minister Priya Manickchand and Attorney General Anil Nandlall, who could be seen on the seawall.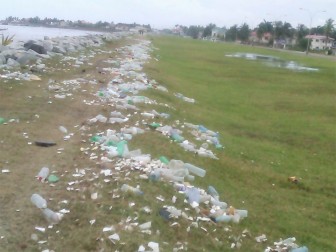 Earlier a Ministry of Works advisory which was broadcast on the National Communications Network (NCN) stated that members of the public should desist from using the northern carriageway of the highway between Vlissingen Road and Conversation Tree.
The advisory went on to say that the flooding was a result of a spring tide and that engineers were in the field working to bring relief to residents.
Efforts to contact Minister of Public Works Robeson Benn proved futile.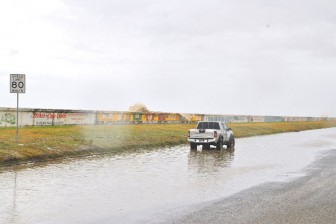 Around the Web