The Ministry of Public Works on Wednesday received a 'cherry picker' and a tow truck, which were procured at a cost of $18M through a loan agreement with the Inter-American Develop-ment Bank (IDB) and the Government of Guyana.
The 'cherry picker' can rise to about 50 feet and will be vital in responding quickly to emergencies and routine maintenance of both street and traffic lights, the Government Information Agency (GINA) said in a release. It added that the tow truck will contribute to the ministry's goal of having the public roads free from encumbrances.
The vehicles will enhance the transport infrastructure rehabilitation programme in the ministry's execution of its road safety and maintenance programmes, GINA said. Minister Robeson Benn stated that the equipment will be used mainly along the East Coast Public Road, on the railway embankment, East Bank of Demerara Public Road and the West Coast Public Road going to Parika, since these areas are more problematic.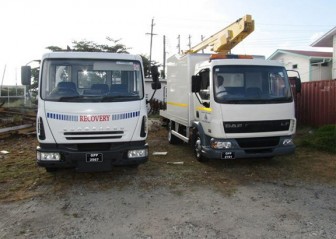 Several areas across the country now have street lights, leading to the ministry establishing a Street Light Maintenance Department in 2010.
Under the Transport Infrastructure Rehabilitation Programme, street lights and safety barriers were installed, speed limit and road signs were marked and 30 wheel clamps were acquired by the Guyana Police Force to assist in traffic enforcement campaigns, GINA noted.
Around the Web