A mother and her three children, who were allowed by her husband's employer to occupy a recently purchased house, now have to look for another place to live because fire yesterday afternoon des-troyed the building at Agri-cola, East Bank Demerara.
The fire gutted the house at Lot 21B Agricola Public Road.
The mother, 37-year-old Ashley Williams told Stabroek News that she  and her family had only recently moved into the home, owed by her husband's boss after being evicted from another house.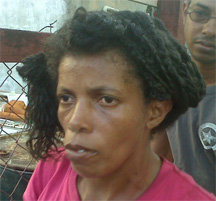 She recounted to the fire service and police that sometime around 3:30pm yesterday she was alerted, by her 6 year old daughter, to the flames coming out of one of the bedrooms. She said that herself and 13-year daughter tried dousing the flames with water stored in the home to no avail. After realizing that the flames   were uncontrollable she raised an alarm and neighbours rushed out to help.
Within minutes the Guyana Fire Service was on the scene and contained the flames to the one house.
A neighbour who owns a nearby shop told this newspaper that she was selling when she heard screams of `fire!' coming from the back of the yard which has five houses. She said when she rushed out the home was already engulfed and shortly after the fire service arrived.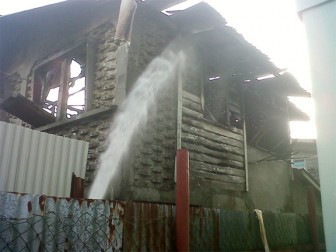 "I was in the shop when we hear `fire ! fire!' at the back house … we run out and saw the lady and her children standing watching. The people all around start fuh throw water on dey house and quick, quick we hear the fire service come  and they put it out before I could blink my eye", she said.
Attention was then focused on dousing the homes nearby given that they are within 10 feet of each other.
Neighbours and the owner of the property, Angela Rahaman praised the efforts of the fire service. They opined that if the fire service did not respond as quickly as it did more than ten homes could have easily been lost since they are close to each other.
Rahaman who lives in the house on the right of the destroyed property said that she had only recently bought it from her uncle. She stated that transfer of ownership was still in process and they were working to have the house equipped with power and water to bring comfort to the new occupants, who are the wife and children of Patrick Lewis, a security guard employed by her.
The careless use of matches is believed to be responsible for the fire though the fire service was also told of sparks which were seen coming from an electricity line.
Around the Web