Ministry of Public Works Design Engineer Kelvin Clarke says preparatory work on the East Coast four-lane road, which started in late 2011, is progressing well.
"In lot one of the project, 60% of the works are completed in Better Hope…in lot 2, we are 40% completed…works for the drains have started in Montrose and are about 500 feet in La Bonne Intention," Clarke told the Government Information Agency (GINA). He also reported that the next phase to be completed involves back filling with white sand to have a surface of stabilised white sand for future road works.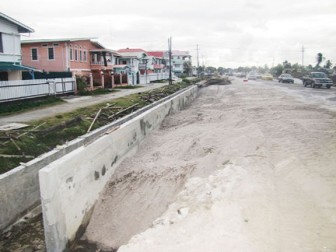 "A feasibility study is currently being undertaken for the entire road from Better Hope to Belfield… based on the findings of that study, construction will commence… we recognise that a section of the road is not illuminated …we are working towards re-engineering the system…when a portion of the road is completed, street lights will be installed for the area," Clarke said.
He also appealed for the public to be patient, while noting that sometimes the contractor would execute works that can cause traffic jams "which can be disgusting, particularly during peak hours."
Preparatory works for the expansion of the road started late last year, with the construction of the first lot being undertaken by Falcon Transportation and Construction Services to the tune of $468.2M. Lot two is being executed by Dipcon Engineering Services at a cost of $571.6M.
According to GINA, the works entail clearing of the right of way; placing of a white sand base; construction of reinforced concrete drains to either side of the road; and the construction of temporary timber bridges at key locations to facilitate access during the construction period. Government secured the sum of US$900,000 from the Kuwaiti government to prepare the design for the road expansion last year.
Around the Web