While legendary reggae performers Beres Hammond and Glen Washington treated fans to a packed show at the National Stadium on Sunday, rapper Rick Ross, the headliner for the other half of Hits and Jams Entertainment's Easter Fest, was a no-show yesterday.
The promoters kicked off their holiday weekend concerts on Sunday with a smooth programme that drew thousands, but hit a bump in the road when they reported that Ross would be unable to travel due to a medical emergency.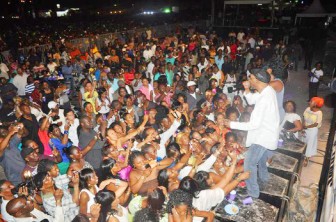 The news caused some amount of uproar among fans, who had already bought their tickets in anticipation of the concert, which had been heavily promoted for months.
However, HJ Chief Executive Officer Kerwin Bollers yesterday apologised on air for the situation while offering a refund to persons who wanted one.
The concert went on with Jamaican dancehall artiste Mr. Vegas, who was also initially scheduled to perform. The singer appeared alongside Bollers and joined in reassuring the public that Ross' absence was beyond their control.
"They have no control over this Rick Ross situation or other artistes that can't perform because them is good youth…" Mr. Vegas said during a live television broadcast on HJTV Channel 72 yesterday. "Everything sort out with me, me ticket book, everything good, the promoter them ah good people but the Rick Ross situation, Guyanese people have to understand that.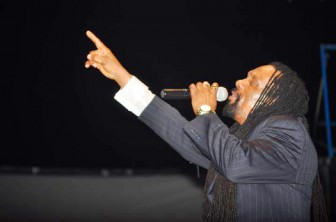 Health reasons, we can't question that because we don't want Rick Ross come to Guyana and drop down dead… if he come here and get sick, maybe the medical condition we won't be able to treat him here in Guyana… so we not gonna hold it against Rick Ross and we not gonna hold it against the promoter," he added.
The promoters also opted to offer the public free entry last evening up to 10pm into the Guyana National Stadium.
On Sunday night, Hammond and Washington both thrilled the thousands of fans they drew to the stadium.
Washington took the stage, wearing a pinstripe suit and swinging his long, flowing dreadlocks to the melody as he sang. With his smooth, raspy, bass voice, he sang "Hooligan," "Kindness for Weakness" and a cover of "Members Only," among other hits.
He performed for well over an hour, but while fans enjoyed his music, their anticipation for Hammond could not be concealed. As Washington finished his performance, shouts echoed through the venue to have Hammond come on.
After a short set change, at 1:30am Hammond took to the stage in his traditional denim jeans, black vest and a white shirt along with his trademark flat hat.
However, arguably the most attractive thing he wore was the smile that never left his face throughout his two-hour performance.
Hammond, who many agreed appeared stronger and more versatile than during his last visit on Easter Sunday last year, changed the atmosphere at the stadium with just his presence on stage.
And with scores of hits to choose from, he offered as many as time would allow, including "What One Dance Can Do," "No Disrespect" and "She Loves Me Now."
The crowd included a large section of mature women as well as many youths who grew up listening to his beautiful songs. He reached out to many of them who rushed to the stage front hoping for a chance just to touch his hand.
As he sung "Come Back Home," "Tempted to Touch," "Sweetness," "Putting Up Resistance," and "Groovy Little Thing," he came down from the stage and hugged and danced along with some fans who even used the opportunity to capture the moment in photographs.
Hammond's love for performing was evident in every song and every step and he seemed to enjoy flirting with fans throughout "Feel Good" before later turning in a sensual delivery of "No Disturb Sign," which had the audience passionately singing along.
Closing the show with songs including "They Gonna Talk," and the feel-good classic "Rockaway," Hammond shortly after disappeared behind the stage, no doubt leaving another lasting impression on fans.
Around the Web