A senior United States official says despite difficult financial times, the U.S. has injected US$133 million in the first two years of the Caribbean Basin Security Initiative (CBSI).
Brian Greaney, acting Deputy Chief of Mission at the U.S. Embassy to Barbados and the Eastern Caribbean, told the opening session of the 18th Annual Pre-IDEC/ Regional Drug Commanders Conference at the St. Kitts Marriott Resort that regional co-operation and communication is essential, in the fight against the trafficking in drugs and trans-national crime, according to a recent news release from the Office of Prime Minister of St. Kitts and Nevis, Dr Denzil Douglas.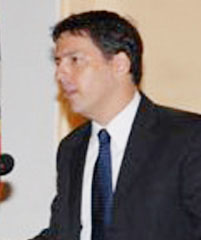 However, Greaney said, the United States will not be able to spend indefinitely and called on everyone attending the conference to do what was necessary to make sustainability a cornerstone of the planning for the future.
"In November we announced that the United States would provide US$10 million to upgrade the avionics and communications of the RSS Air Wing, whose two C-26 aircraft were initially donated by the United States in 1999. Our total assistance to date for the Air Wing is US$23 million. We also announced an additional US$1.9 million for training for RSS (Regional Security System) member nations' personnel," Greaney is quoted as saying.
He disclosed that the U.S. government was allotting US$450,000 in new funds to provide polygraph capabilities to RSS nations so that members of their law enforcement agencies can become fully trained polygraphers and serve as part of an RSS polygraph corps.
"This will provide sustainability to RSS member nations for ongoing (and urgently needed) vetting capabilities essential to preventing and rooting out corruption," he told delegates from 22 countries.
Greaney said also that the U.S. is allocating US$1.5 million in new funds to expand the capacity of RSS nations to help make prisons and correctional centres safe, secure, humane, and in accordance with international standards.
"We will provide mentoring as well as equipment and training for corrections officials," said the United States diplomat.
The American government is to deliver two interceptor boats to each of the OECS countries, as well as communications upgrades for all RSS nations, beginning this spring. This package is valued at approximately US$14 million, the release said.
Greaney told conference delegates that they are not neglecting the youth side of the problem.
"The U.S. Agency for International Development (USAID) is implementing an agreement with the OECS Secretariat to strengthen juvenile justice systems by improving the legal and regulatory framework and building awareness in civil society, among other things."
"All our agencies – the Federal Bureau of Investi-gation (FBI), International Narcotics and Law Enforce-ment Affairs (INL), the Naval Criminal Investigative Ser-vice (NCIS), Diplomatic Security's Office of Anti-Terrorism Assistance (DS-ATA), the Department of Defense (DOD), and the Drug Enforcement Administration (DEA), just to name a few – are conducting ongoing training and exchange programmes for your law en-forcement and security forces, too numerous to detail here," Greaney said.
He noted that fostering of information sharing is necessary for success.
"Obviously, some of our efforts predate the Caribbean Basin Security Initiative. We have a longstanding belief in the potential benefits of information sharing,"  Greaney said, pointing out that 18 years ago, the United States established this conference as a way to bring commanders of the Drug Units throughout the region together to identify strategies and share intelligence to combat illegal drug trafficking and develop working relationships.
He added that since its inception, the goal of the conference has been to promote regional co-operation among drug units and financial units targeting drug trafficking organizations throughout the region and the conference gives the Caribbean Working Group an opportunity to prepare for the IDEC (Inter-national Drug Enforcement Conference).
Greaney disclosed that they are also looking at the potential for an Eastern Caribbean conference for the fall which would bring together, perhaps for the first time, a regional assembly of key actors in counternarcotics: police, drug squads, coast guards, prosecutors, and judges.
Meanwhile, noting that competition for national security funding is intense, he pointed out that the United States is providing resources for all these activities, including this conference, out of a desire to build local capacities and give the sovereign nations of the Caribbean an enhanced and lasting ability to confront the menace of transnational crime, the release added.
Around the Web