Tragedy struck at L 27-1021 Latchmansingh Street, Tucville when a fire of unknown origin gutted the home of Senior Manager of the Guyana Revenue Authority (GRA), Simone Beckles sometime around 3:30pm yesterday.
Her son, Shaquille Munroe told Stabroek News that he was home alone at the time the fire started. He said that he was awakened from his sleep by the thick smoke that had already engulfed the house. He said that he immediately hurried out and told the neighbours that the house was on fire.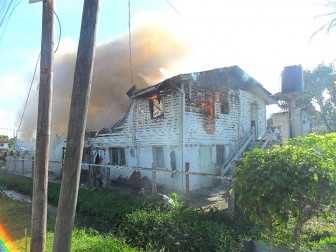 Munroe further stated that the fire started in the front room of the house which was occupied by Beckles. She had a television, fan and air conditioning unit but none was plugged in at the time of the incident so he is unsure as to how the fire started.
The 16-year-old said that the house had been occupied by his mother, a relative and him. He added that the only appliances that were plugged in at the time were a fridge and an electrical fan which he was using in his room at the time.
Fire-fighters took some twenty minutes before arriving at the scene and their actions were praised by residents despite the absence of a ready source of water which affected their operation.
A fire hydrant which was apparently not functional stood just across the road from the house. Residents in the area said that at one time water flowed from the hydrant but sometime back the Guyana Water Inc went into the area and disconnected the water supply to the facility.
Beckles and her son were in tears as the firemen worked frenetically.
Around the Web