Speeding along the Versailles Public Road, West Bank Demerara is being blamed for an accident that claimed the life of a young man early yesterday morning.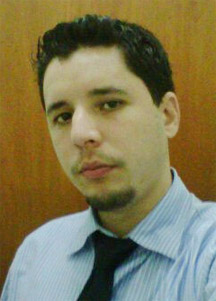 Adam De Jesus, 26, of Lot 38 Goed Fortuin, succumbed as he was being dashed to the West Demerara Regional Hospital, while his best friend and passenger at the time of the accident, Paul Adams, 23, suffered whiplash injuries to his neck. Up to yesterday, he was at home still traumatised as he recuperated.
Recounting the horrific ordeal from his Vreed-en-Hoop home, Adams told Stabroek News that he and De Jesus were returning home, sometime after midnight, from Easter Monday celebrations at the nearby Joe Vieira Park. He said it was his friend's intention to drop him off and return home to eat, since they had only moments before purchased food from a nearby Chinese restaurant.
That was not to be as around two minutes after pulling off, De Jesus failed to negotiate the turn at the intersection of the Versailles and Goed Fortuin bridge, slammed into a utility pole and then toppled at least three times before smashing into the Guyana Power and Light Company (GPL) fence and compound. "I still cannot believe this has happened. I'm telling you everything just happened so quickly. One minute we stopped to get food, next we were driving and then bam!"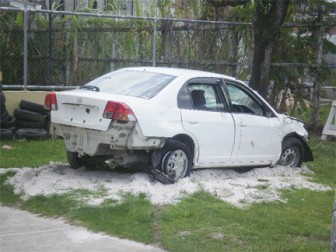 Adams said after crashing into the fence, he seemed to have lost consciousness or was too traumatised to remember details of what transpired next. "I can't remember much, if he said anything, when he realised we didn't straighten up after going around the turn, nothing… all I remember is seeing him turning the wheel hard and next thing I know I was hitting the window for help," he said.
An emotional Adams remembered his friend, whom he knew from age five and whose family has always remained close, having moved from Region One over twenty years ago.
Eyewitnesses recalled that the white Honda Civic was speeding as it turned the Versailles Bridge. They said that it seemed that the driver forgot that the road had a turn, since he continued driving in a straight line.
A security guard nearby said, "I see the white car speeding and like he think the road go so (pointing in a straight line) and realise late and de trying fuh straighten up but he slam into the pole and into GPL," she said.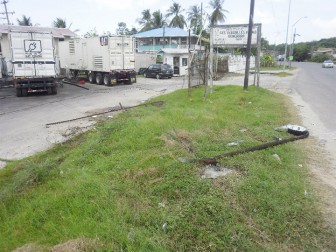 She said that a GPL employee and persons nearby quickly rushed to the scene and assisted in pulling the injured young men out of the car. "It was real difficult to get them out, how the car de turn over, so people now had to turn it back proper and then try to rescue them…the driver was pinned down and they had to break the window to get him out. The other boy had on his seat belt and was hitting the side window screaming for help," she added.
When De Jesus was taken from the vehicle, he was still alive and was said to be "gasping hard." By the time he arrived at the West Demerara Hospital, he was pronounced dead.
The former Saints Stanislaus High School student was the eldest of four brothers and a sister. At his home yesterday, many family members and relatives crowded his home to give support and sympathy to his family. His mother was too distraught to speak and sobbed uncontrollably as she sat in her hammock, wishing that the hands of time be turned back.
His brother, Andy De Jesus, spoke of his affable personality. He lamented that it was not yet one month since his brother joined the El Dorado Trading Company, a change in career move that was short-lived. .
An autopsy will be performed tomorrow at the Ezekiel Funeral Home.
Around the Web