Five Venezuelan nationals were yesterday jailed by Magistrate Allan Wilson after they pleaded guilty to five armed robbery charges that stem from an attack on stranded travellers at an island in the Wenamu River, Cuyuni.
Entering their pleas through a translator at the Georgetown Magistrates' Court were Jonathan Benitez, 20, Juan Munoz, 20, Josua Medina, 19, Jhosmel Jose Eurealuces, and Ramon Berudez, 18.  Each of the men netted three years for each charge, for a total of fifteen years for each of them, but they were told that the sentences would run concurrently and they would only serve three years total in jail. Medina also pleaded guilty to charges of unlawful possession of a weapon and unlawful possession of ammunition, for which he was sentenced to 18 months imprisonment and fined $10,000.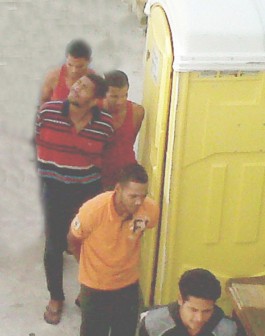 The court heard that on the morning of April 4, 2012, at Wenamu River, in the Essequibo District, the victims of the robberies joined a power boat that departed from Arau landing en route to El Dorado, Venezuela.
During the journey, in the vicinity of an island in the river, the boat got stuck on some rocks and it was at this point that the five Venezuelan nationals, armed with a shotgun, cutlasses and knives, attacked and robbed the travellers.
The five defendants robbed the driver of the boat, Mohan Lall and passengers Hector Martin, Jenna Hernandez, Frank Lopez, and Raphael Joseph, who were relieved of gold, local and foreign currency notes and other articles estimated at over $4M in total. Medina was charged separately for being in possession of the shotgun and matching ammunition at the time of arrest without being the holder of a firearm licence.
The five men, aided by the translator, pleaded guilty after Police Prosecutor Sergeant Gordon Mansfield asked for the charges to be handled summarily.
Prior to sentencing, the accused seemed to be under the impression that they would have been deported immediately and they seemed to be joking and they laughed during the hearing.
When they eventually asked the court through the translator when they were going to be sent back to Venezuela, the Magistrate informed that they would be deported when they complete their jail sentences in Guyana. (John Richards)
Around the Web