Some thirty members of the Guyana Women Miners' Association (GWMA) yesterday called on members of Parliament to urgently address the growing instances of land being taken from them to facilitate new Amerindian settlements.
"This is not an attack on the Amerindians but we are saying that we will not allow politicians to use different race to tek land and give it to this one to get votes and all of dat. We are saying that we need stability here", president of the GWMA Simona Broomes told Stabroek News.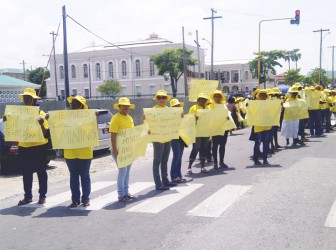 She along with other women dressed in their bright yellow T shirts and hats braved the scorching midday sun with their placards hoping to attract the attention of politicians on their way to yesterday's sitting of Parliament.
The only ones who stopped and acknowledged their presence they said were  A Partnership for National Unity (APNU) parliamentarians  Dr Rupert Roopnaraine and Volda Lawrence.
The women under the watchful eyes of several uniformed police ranks said that they intend to continue the protest for as long as they can.
Broomes described the land situation as "a crisis in the mining industry" stressing that it is widely believed that it is a political move. She called on the parliamentarians to bring some stability to the industry.
She said that there are situations where lease lands are being taken back without a proper explanation or reason. "We are saying that Guyana and the mining industry belongs to all", she stated as the other women nodded their heads in agreement.
The woman said that the three political parties which make up Parliament should come together and make a decision because "we will not stop, we will continue, we will stand because we need money.
That is where we make our money". She pointed out that the majority of the women in the GWMA are single parents.
She noted that they are prepared for the "long haul" until this issue is addressed pointing out that this protest is just the start of what is to come.
She said just like how sugar and rice are being focused on a lot, mining needs to be treated the same way since the latter is just as important.
"We are producing larger than all the industries throughout this country. Don't treat us like that. For too long we sit back and be silent, have properties taken away and pushed around", she stressed adding that they have now mobilized and have a voice.
She said that attempts are also being made with the Speaker of the National Assembly, Raphael Trotman for a hearing so that their concerns can be highlighted.
Broomes told this newspaper of a situation where the land of a fellow miner was taken away in 2009 with a promise that she would get a piece at another location. To today's date Broomes said, the woman has not received her land. "We feel hurt about it. We feel deep about it and that is why we are here", she said.
Broomes pointed out that the location on Brickdam just outside the Georgetown Magistrate's Court which is undergoing repairs was most unreasonable for the protest. "I don't know why we gotta shift around like we are some hooligans. We are proud Guyanese women and we should have a right to express ourselves. We are orderly, we are peaceful", she said pointing out that a suitable position would have been in front of the Parliament building.
She stressed that they were being very peaceful and orderly and it is unfair for them to be told by the police that "we can't stand here and we can't stand there". She said that they had written an application which specified where they wanted to stand.
Last month, the Ministry of Natural Resources and the Environment mandated the Guyana Geology and Mines Commission (GGMC) to provide guidance and technical support to the  Women Miners Association so that it can benefit equally from the opportunities in the sector.
According to a press release, the women miners' body met Natural Resources Minister Robert Persaud as a follow-up from previous discussions over concerns and ways of providing avenues for the women to benefit from mining opportunities.
Broomes had commended Persaud and the GGMC for implementing the recently established lottery process for allocating lands, saying that it is transparent and allows all miners to have access to available areas.
She also pledged her group's continued commitment to working closely with the ministry and the GGMC to ensure equal opportunities for women miners.
GGMC Commissioner Karen Livan and Deputy Commissioner Rickford Vieira also attended the meeting.
Around the Web