The lifeless body of 47-year old Yeuryodan Haindarshan of 93 Logwood, Enmore, East Coast Demerara, was pulled from a canal at Enmore North on Tuesday after he went missing for a brief period.
Haindarshan's lifeless body was found lying face down in the canal at Company Dam, Enmore North on Tuesday sometime around 3:00pm and a pair of 'Clarks' and a hat he was wearing at that time were discovered some distance away from his body.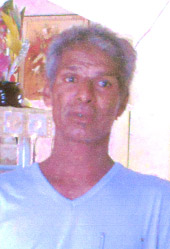 According to the man's sister Linee Haindarshan, the father of three would visit the seawalls every day and on Monday he took his regular walk around 6:00 pm and since it was a holiday he was there drinking.
She said that they were informed that he was playing 'Chic Chic', but she finds that hard to believe since her brother usually did not gamble. He was said to have won some cash but another player became angry and reportedly punched him in the face.
She added that her brother then left the scene and that was the last time anyone saw him in the area, but the family is not satisfied with the explanation that he may have fallen into the canal as a result of being intoxicated. They believe that some sort of foul play was involved in the incident because of the fact that the pair of 'Clarks' and his hat were found on the dam.
She said "If he had fall in the canal, he boots couldn't come off because it was tied off…we believe somebody throw he in there".
The family said that after he did not come home on Monday they reported the matter to the Police and they had formed their own search party and were scouring the area with the hope of finding him alive.
They are of the view that someone or persons attacked Haindarshan and beat him, since his body bore visible marks of violence, then dumped his body in the canal.
They are pleading with the police to launch an investigation into the incident. A post-mortem examination will be performed on his remains tomorrow.
Around the Web